From the beginning, the TiVo sponsorship of the Georgia Tech football team was destined to be something unique. Not only did TiVo reach out to the entire team, signing 90 athletes in the largest NIL deal to date, but the sponsorship was also a true creative collaboration from start to finish.
"Under NIL, it's mostly been brands contacting individual student athletes—the stars. So for a brand to contact the school and say 'we want to sign everyone' was ground-breaking," says Assistant Athletic Director Simit Shah. "Having a partner who was willing to work with us and brainstorm with us from day one, instead of coming in and telling us what to do—that's very different, and very TiVo."
Why Georgia Tech? For TiVo, it was all about the people. TiVo's William Chamberlain explains: "It's crucial to find great people who want to work with you—and we found that at Georgia Tech. Simit is a long-time customer of TiVo, both back in the day and now, with our new TiVo Stream 4K streaming device. He really believes and trusts our brand—and when you combine that with his desire to help his students learn and navigate the world of NIL for the first time, you've got a win-win-win partnership."
The introduction was made by TiVo's partners at Viva La Rock and The Reiman Agency, who were also a critical piece to making this happen.
Ultimately, the sponsorship went viral on social media, netting articles in major media outlets, generating a total potential reach of more than 175 million people, and boosting exposure for the Georgia Tech football program itself.
Georgia Tech has leveled the NIL playing field.

TiVo has signed the Yellow Jacket Football Team to the largest full-team NIL deal to date — all 90 players.

Every single team member received sponsorship contracts, a TiVo Stream 4K, and access to the newly-upgraded GT media room. pic.twitter.com/zz8FmLYL0l

— Front Office Sports (@FOS) September 2, 2021
Why was this sponsorship so effective, and what made it unique? Follow along to learn how the TiVo-Georgia Tech NIL partnership was the ultimate triple threat: benefiting the student athletes, the university, and the TiVo brand.
---
Teaching Student Athletes the Ins-and-Outs of NIL Deals
The players on the Georgia Tech football team are some of the most elite young athletes in the nation. And given their sheer size and their encyclopedic knowledge of football, it's easy to forget that they're still very young.
"We recognized that some of these players are straight out of high school," says Chamberlain. "This is their first exposure to brand sponsorship and the business world, and we take that responsibility seriously." For TiVo, this deal was a historic opportunity to set the bar for how brands develop relationships with student athletes—and demonstrate how companies can support and grow with aspiring young people as they advance in their careers.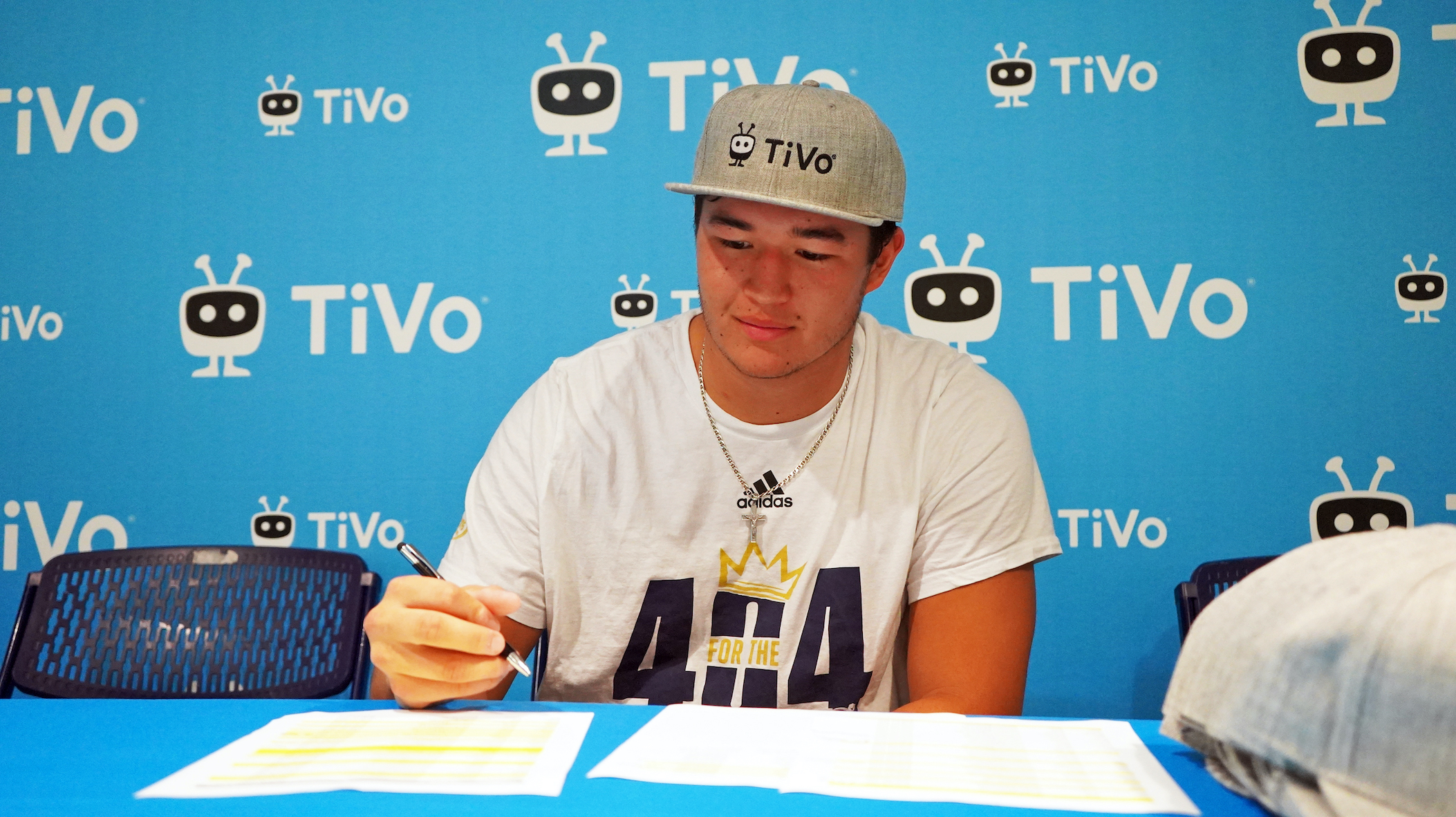 As part of the deal, every player received $404—a nod to the team's 404 area code—along with a TiVo Stream 4K device and a football identical to the Yellow Jacket's game ball, adorned with a TiVo logo. For competing teams, though, the most eye-catching part of the deal wasn't the cash—it was the silk pajamas. "Already, other teams have come up to me and asked me 'how do we get those PJs?'" Shah says. "Those definitely made an impression around campus."
Even ESPN talked up our pajamas. Check out what they had to say here.
But beyond the fun merch, TiVo wanted to show these student athletes what it was like to sign deals that would benefit them in the long run. The TiVo team worked closely with the Yellow Jackets, teaching them the ins-and-outs of evaluating and signing sponsorship contracts—a valuable lesson for young athletes, many of whom didn't yet have bank accounts.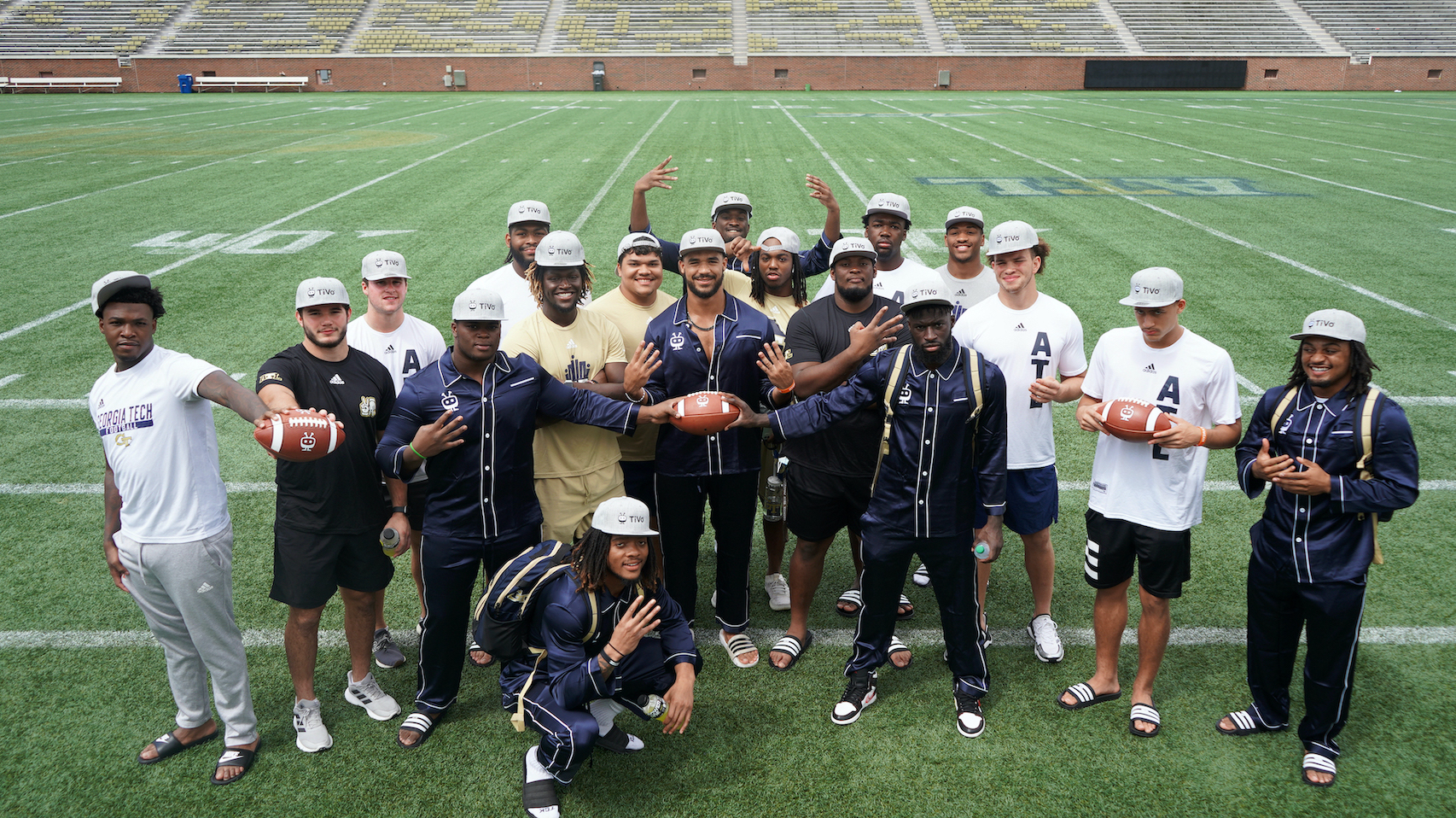 For the players, it was a huge morale boost to see a brand willing to invest in every single player—not just the stars. "The TiVo partnership really brought the team closer together," says team captain Ryan Johnson, who plays right guard for the Yellow Jackets. "It's huge to know that whether you're catching touchdowns or blocking, people are still willing to back you."
---
Boosting Georgia Tech's Exposure
Along with helping the individual players and making a sizable donation to the Yellow Jackets' media room, the TiVo deal also brought Georgia Tech valuable exposure—which caught the eye of alumni, donors, and potential recruits.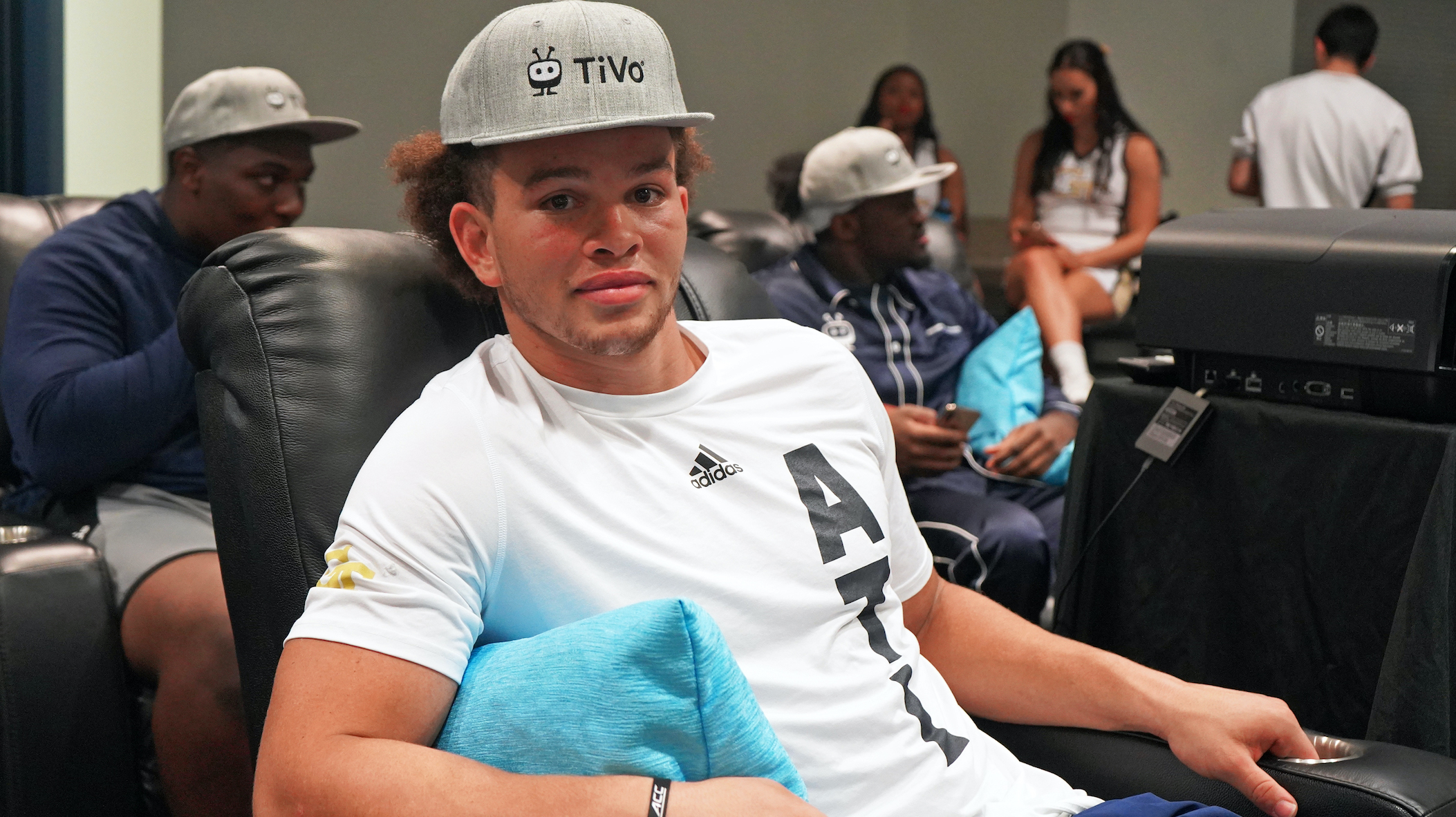 "Once the partnership launched and 90 players started posting about it on social media, people started to take notice," says Shah. "And that attention was incredibly valuable for our school and our athletes."
"The whole team was really excited about the TiVo deal. The creativity from TiVo was so cool, really letting guys get into their natural environment during the photo shoot. It was worth our time and effort, and my teammates and I would totally do it again." ––Ryan Johnson, team captain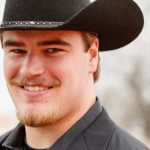 According to Shah, the media attention had positive effects for the team and the school even beyond what he had anticipated:
Recruitment:
"Getting this type of exposure is a good recruitment tool, since college football is a lot about getting exposure for the players," says Shah. "So a recruit sees the pajamas and all of the buzz that TiVo created and thinks, 'okay, Georgia Tech is active with name, image, and likeness (NIL) deals.'"
Donors:
The media attention also increased opportunities to connect with donors. "Donors reached out to us because they saw all the exposure," says Shah. "It triggered a lot of new conversations, with donors reaching out to say 'Hey, I saw that TiVo sponsorship. It looked cool. Tell me more about it.' All of those new conversations equate to more possibilities for donations."
---
Expanding TiVo Brand Recognition
Ultimately, for companies, sponsorships are about expanding brand exposure in the marketplace—and the positive vibes at the heart of the TiVo-Georgia Tech partnership made it easy to do. "The TiVo Stream 4K is about getting the content from all your apps in one place—not playing favorites," says Chamberlain. "We wanted to highlight that ethos with this campaign."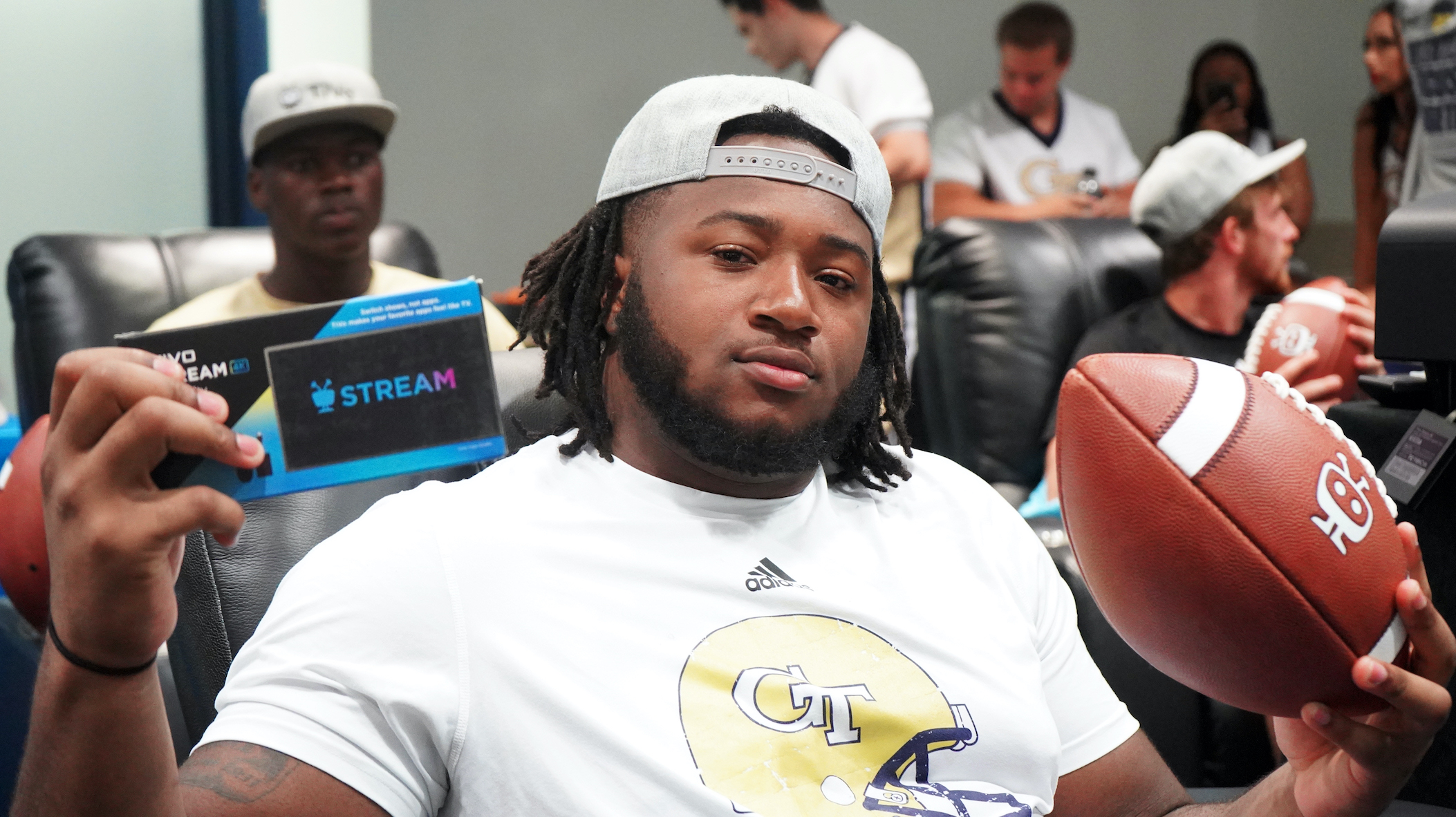 "When I heard about the opportunity [for the partnership], it was an easy 'yes,'" adds Matt Milne, chief revenue officer for Xperi, TiVo's holding company. "College students are a key demographic for us, and having the Yellow Jackets excited about the deal and evangelizing our product was a huge win."
As part of the deal, each player agreed to make two social media posts—and some were so excited that they created more. In the span of only a few weeks, the story of the partnership went viral on Twitter and was picked up by ESPN, Yahoo Sports, the Atlanta Journal-Constitution, generating a total potential reach of more than 175 million people.
View this post on Instagram
"So now we've got the players tweeting about the sponsorship, we've got a TiVo banner in the stadium, and we've got online sports communities starting to buzz about it," says Chamberlain. "Then we added a TiVo giveaway for 50 students at the opening game." The overall exposure for TiVo has been huge, as reflected in sales of the TiVo Stream 4K device, which rose to the highest volume to date in the weeks following the Georgia Tech launch. "We've gotten so much support from football fans—which is a perfect fit, because TiVo Stream 4K is truly the best way to watch football."
The fact that the TiVo Stream 4K was a product that many college students are already interested in made the whole campaign just that much more effective, says Shah.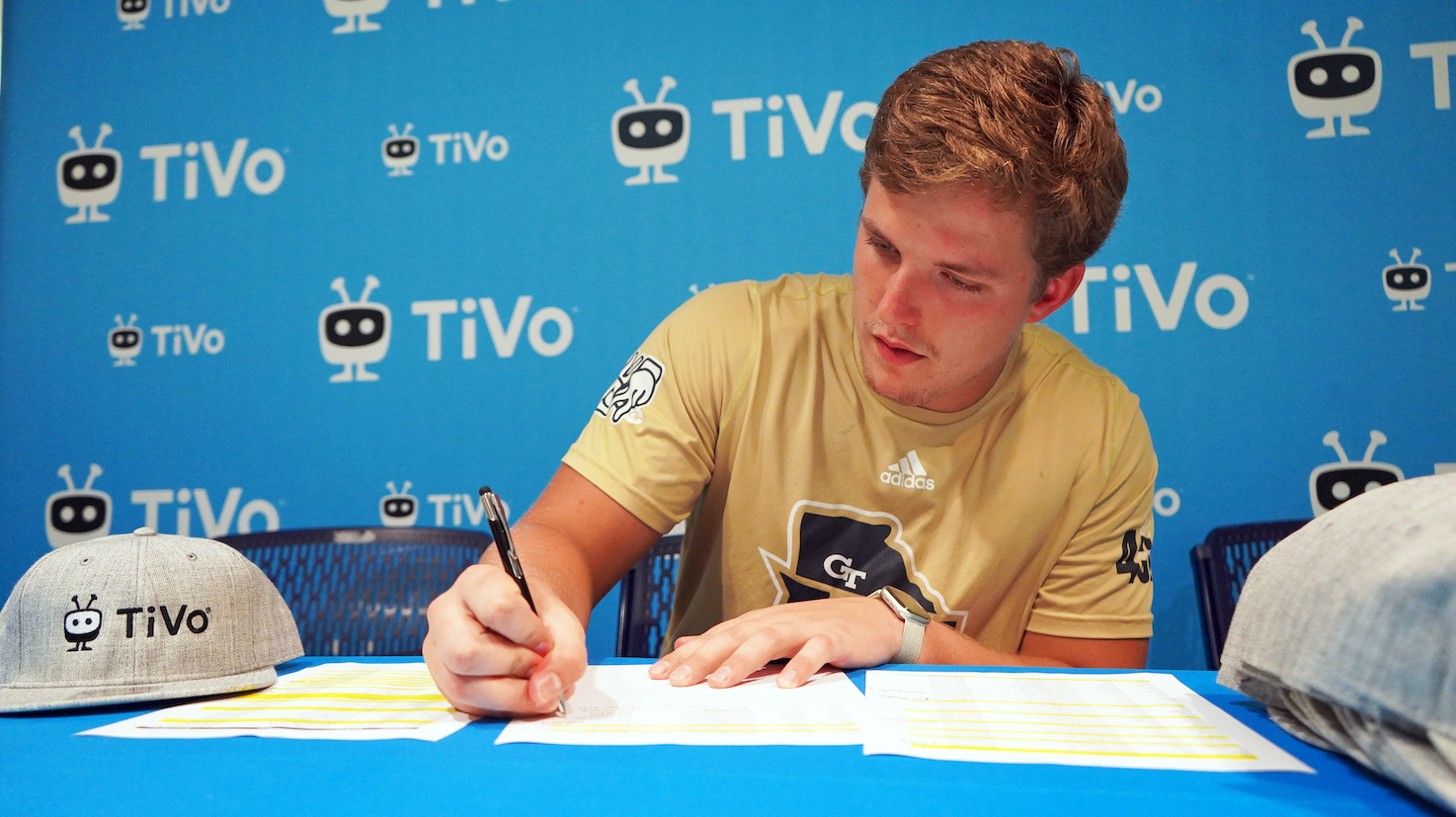 "Honestly, the TiVo Stream 4K is an ideal product for any campus," he says. "And it really speaks to this generation of students, who grew up with streaming. The fact that TiVo has been so supportive of our student athletes just makes it that much more appealing."
---
Check out our original article on Georgia Tech here. And while you're at it, stop by our blog to learn more about why TiVo Stream 4K is the best way to watch football this fall.
Press inquiries: Lauren.Ward@xperi.com
©2021 Xperi. All Rights Reserved. TiVo, TiVo+, TiVo Stream 4K, the TiVo logo, and the TiVo silhouette logo are all trademarks or registered trademarks of TiVo Brands LLC. All other trademarks and content are the property of their respective owners.