Making soup isn't usually a newsworthy event. But a few months ago, the TiVo team made some stew—and managed to break a world record.
Confused? Let us give you some context. Back in April 2021, Americans had been in lockdown for more than a year. Most people were still stuck at home—and they were running out of things to watch. We knew that viewers could discover tons of new content using the TiVo Stream 4K, and we wanted to spread the word.
Enter our first-ever TiVo Cook & Watch Party, an easy way for TiVo to connect people to new content and each other. It was an online event that would prove to be the largest online cooking party in history.
---
Pairing Binge-Worthy Shows With Binge-Worthy Meals
The TiVo Cook & Watch Party aired on April 5, 2021 and featured celebrity chef Joel Gamoran courtesy of his team at Homemade. In his 20-year career, Gamoran has given lessons to millions of home cooks via appearances on NBC's Today Show and his A&E series "Scraps." But for TiVo's Cook & Watch Party, Gamoran did things a little differently. He paired a binge-worthy movie with a binge-worthy dish: ratatouille.
To start, Gamoran and the more than 2,700 watch-party participants enjoyed a 30-second clip of the Disney movie Ratatouille, featuring Remy, the famous rat chef. Then they jumped into making their own ratatouille—with tips from Chef Joel along the way.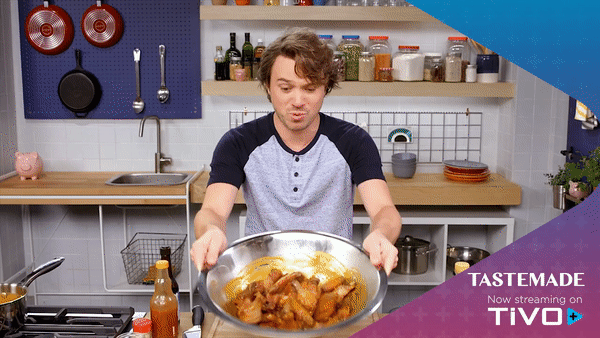 As the eggplant and zucchini simmered in pans, Gamoran admitted he had some personal reasons to shout out the TiVo Stream 4K. Namely, TiVo made it easy to find a show that he and his wife both want to watch. "It used to take us 20 or 30 minutes every night to agree on a show," Gamoran joked. "Now it takes three or four. So, I guess the TiVo Stream 4K saved my marriage?"
One viewer piped in that he has a TiVo Stream 4K at home, and loves it. "But," he jests, "if you really want to save your marriage, you'll need to invest in two of them."
---
Are you also sick of arguing with your family over what to watch? Check out our blog on how TiVo Stream 4K will transform your streaming experience. 
---
Building Community Through Cooking
The TiVo Cook & Watch Party broke the world record for the largest online cooking party in history—and ended with more than 300 viewers walking away with a free TiVo Stream 4K. But the party was about more than just giveaways and breaking records. "We're here to celebrate each other and get together, whether it's around a plate of food or a TV screen," Gamoran told viewers. At a time when many people were feeling lonely and isolated, the TiVo Cook & Watch Party offered a space to cook in community—something many people hadn't done in months.
"This event was really heartwarming," said TiVo's William Chamberlain, who led the event. "It allowed thousands of viewers to come together to discover both new foods and new shows."
During the event, participants turned on their cameras so everyone could see scenes from their kitchens as they chopped vegetables and shredded herbs. Gamoran also took questions from the audience, explaining how to substitute fennel bulbs and sharing his favorite kinds of olive oil. Viewers even jumped in periodically to share their favorite scenes from the movie Ratatouille, and what they love about the TiVo Stream 4K—like the fact that TiVo Stream 4K allows you to see content from all your apps in one place.
Chef Joel Gamoran uses his TiVo Stream 4K to get premium cooking content, including channels like America's Test Kitchen, Tastemade, and Food 52. To learn more about TiVo's 160+ premium channels, go to https://www.tivo.com/products/stream-4k.
At the end of the watch party, everyone grated aged cheddar over their stews and served up slices of crusty bread for dipping. And while we couldn't physically eat together, the TiVo Stream 4K's Dolby Atmos sound and 4K UHD picture made it feel like we were genuinely sharing a meal.
---
Revolutionize the Way You Watch With TiVo
The TiVo Cook & Watch Party broke records, but that's not the only way we're revolutionizing entertainment. The TiVo Stream 4K transforms any screen into a smart TV, and includes hundreds of premium channels with shows you can't find anywhere else. And with all your content in one easy-to-navigate hub, you'll never struggle to find your favorite cooking shows—or any other show, for that matter—again.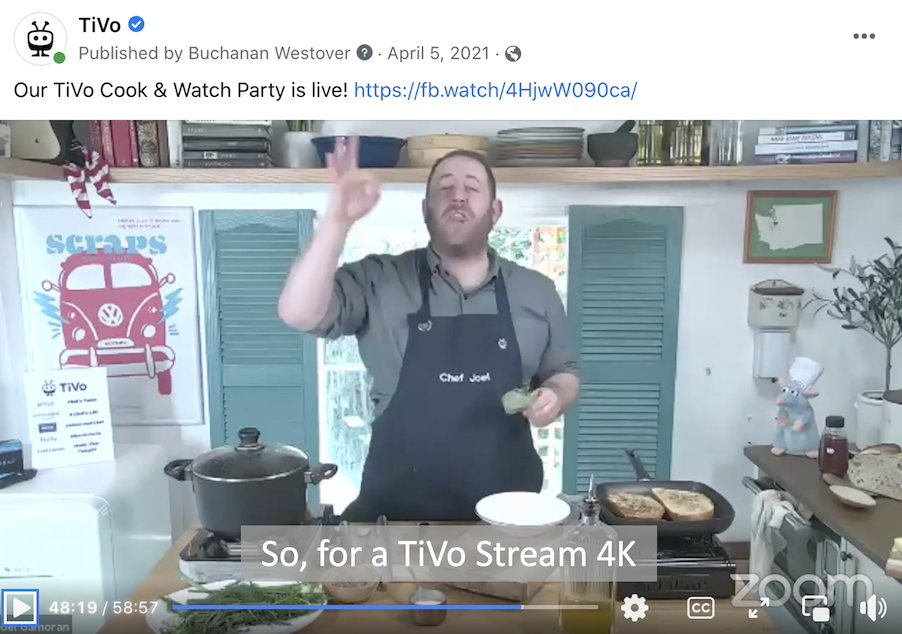 The TiVo Cook & Watch Party aired a few months ago, but that doesn't mean you can't get in on the action. Click here to check out our recap, and cook along with Chef Joel.
---
©2021 Xperi. All Rights Reserved. TiVo, TiVo+, TiVo Stream 4K, the TiVo logo, and the TiVo silhouette logo are all trademarks or registered trademarks of TiVo Brands LLC. All other trademarks and content are the property of their respective owners.[/vc_column_text][/vc_column][/vc_row]