In January, TiVo announced plans to launch a new platform called TiVo Stream.
TiVo Stream is being built to address an entertainment landscape undergoing massive disruption.  Over the past few years, vMVPDs like Sling TV, YouTube TV, and Hulu Live TV have quickly gained millions of subscribers.  Consumer time spent on streaming services like Netflix, Amazon Prime, Disney+, HBO Max, and Peacock is poised to surpass time spent on live TV in the next few years.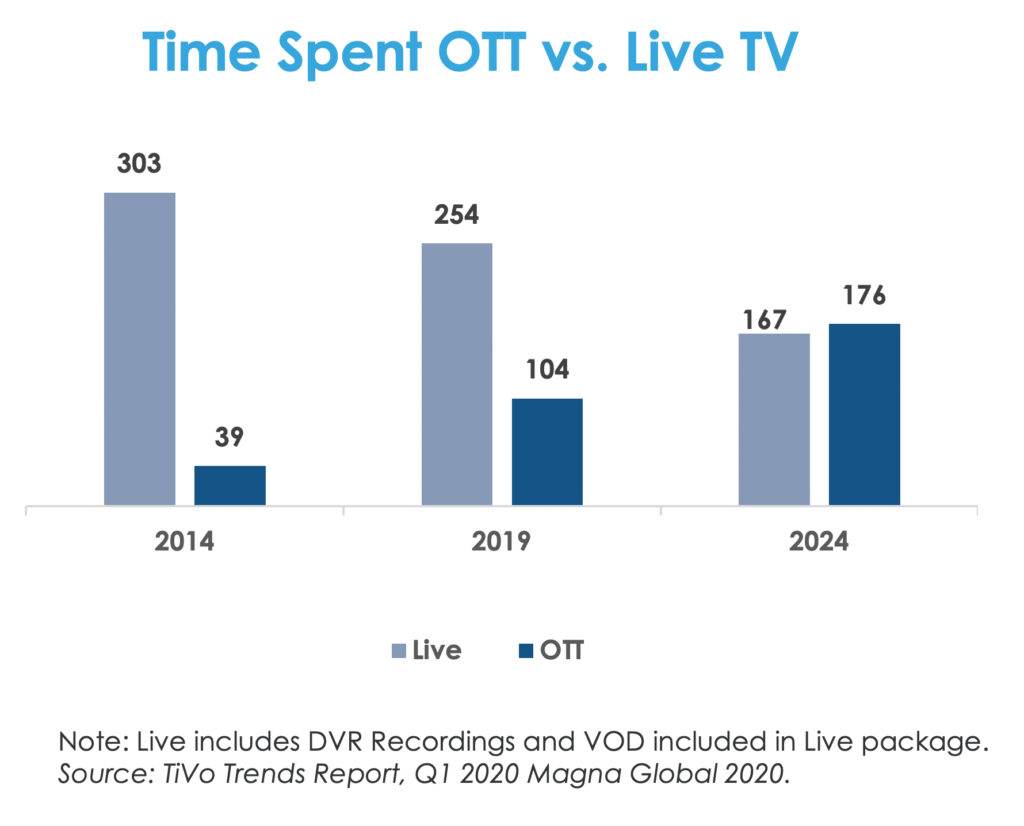 In addition, free ad supported TV (or AVOD / FAST if you prefer "inside baseball" terminology) is hitting an inflection point as services like Pluto gain traction supported by high quality content.
TiVo Stream aims to help you navigate an increasingly fragmented entertainment world by bringing all your entertainment together in one place so you don't have to hunt through different apps and interfaces to decide what to watch.  TiVo Stream will also empower you to build your own bundle, making smart decisions about the services you subscribe to and the ways in which you allocate your entertainment budget.
A lot has changed since our January announcement of TiVo Stream.
First, the rise of streaming has only accelerated with COVID-19 lockdowns.  Staying home has caused consumers in many markets around the country to stream 60% more than they did before the pandemic hit.  Streaming services rode a perfect growth wave created by a captive audience staying at home looking to be entertained at the same time live sports and production of new shows shut down.
Second, major new entrants have emerged competing for a share of consumer's entertainment budget.  Disney+ has grown to over 60 million subscribers in less than a year.  HBO Max launched in May, and Peacock followed in July.
Third, despite the adrenalin boost in streaming consumption, you can rest assured that any reports on the death of live TV are greatly exaggerated.  News consumption skyrocketed with TiVo households watching more than 2 hours per week more during the COVID-19 lockdown than they watched pre-lockdown – underscoring the role live TV plays as a news lifeline.  And, as sports have come back to live TV in the past several weeks, we've seen an accompanying engagement bounce.
In this new world, the problem TiVo Stream is looking to solve has only become more acute.  One of the most frequent questions we're being asked outside of work over the past 6 months – whether from family members on the other side of the country, or friends on the other side of town – is what are you watching on TV right now?  Finding a show (even after a recommendation from a friend) isn't always straightforward – it can be on Amazon Prime, Netflix, Hulu, Disney+, HBO Max, Pluto, or any number of alternatives.  Furthermore, watching the show can require a monthly subscription, a $29.99 one-time fee, a $4.99 rental fee, or it can be free with a few ads – the same show sometimes available in several different pricing categories.
To simplify this world, our team is focused on a few core principles that will drive our priorities going forward.  You'll see these principles described in greater depth as we work to evolve the Stream platform over time.
Universal Discovery: 
The most important principle behind TiVo Stream is that universal discovery provides the golden key to simplifying the entertainment world.  You shouldn't have to decide where you want to watch a show prior to deciding what you want to watch.  User experiences based on a "sea of apps" put the onus on the consumer to become an expert on a dizzying array of catalogs and business models that are rapidly changing over time.
TiVo is investing heavily in onboarding tier one streaming services (both SVOD and AVOD) and doing the heavy metadata lifting that enables universal discovery.  Since launch, you've seen HBO Max, Pluto, CBS All Access, and Starz come online in the TiVo Stream experience.  You'll continue to see new services onboarded at a regular clip as we lead the charge towards universal discovery.  And even for the services that aren't yet onboarded, you can still find and enjoy them in the Apps menu on TiVo Stream (as long as they're available in Google Play).
TiVo is not alone in recognizing the power of universal discovery.  The other large incumbent streaming platforms are all working to move in our direction (e.g. Apple TV+, Google, and others).  We welcome the industry moving our direction, and believe this trend is in the best interest of the consumer.  TiVo's deep experience and partnerships enable us to be a market leader in universal discovery, and we'll continue to invest to stay ahead of the industry in the breadth and quality of our universal discovery experience.
Personalization:
TiVo is also investing heavily in proprietary recommendations that best match you with the movies and shows we think you'll like, regardless of where the shows are available to watch.  The recommendations will get better and better as you engage with TiVo Stream, and as we optimize the algorithms over time.
Ultimately, the key to overcoming a paradox of choice in entertainment is to intelligently put the right shows in front of the right user at the right time.  Personalization done right can dramatically simplify our entertainment lives.
Choice and Control
Another core principle of TiVo Stream is to empower you to filter and control your experience, including intelligently choosing the services that flow through universal discovery.  Compared with incumbents who frequently have ulterior motives in pushing you to one service or another (often due to owning their own content services), TiVo is truly agnostic.  Your recommendations shouldn't be polluted with results from services you have no intention of patronizing.  Over time, we'll give you the capability to precisely tune your experience to the bundle of your choosing.
As a small example (with large significance), TiVo Stream has separate settings for inclusion of results from Amazon Prime Membership (the catalog that you have free access to with your Prime membership) versus Amazon Video (the catalog where you have to pay on a per title basis to watch).  This important lever of control gives you the power to instantly remove Amazon Video results, and only focus on the Amazon titles you have access to for free with your Prime subscription.
You'll see many more of these examples emerge with time.
Marriage of Live TV and Streaming
As much as we believe in the growth of streaming, we're also believers in the staying power of linear TV.  For far too long, live TV has remained too separate from the streaming world – often requiring a separate set-top box or a separate app.  Our goal with Stream is to bring together the worlds of live TV and streaming, innovating around personalization and customization.
On the one hand, Stream offers a "Live TV" carousel on the homepage that sorts everything on live TV by TiVo's prediction of what's most interesting to you personally (based on past behavior).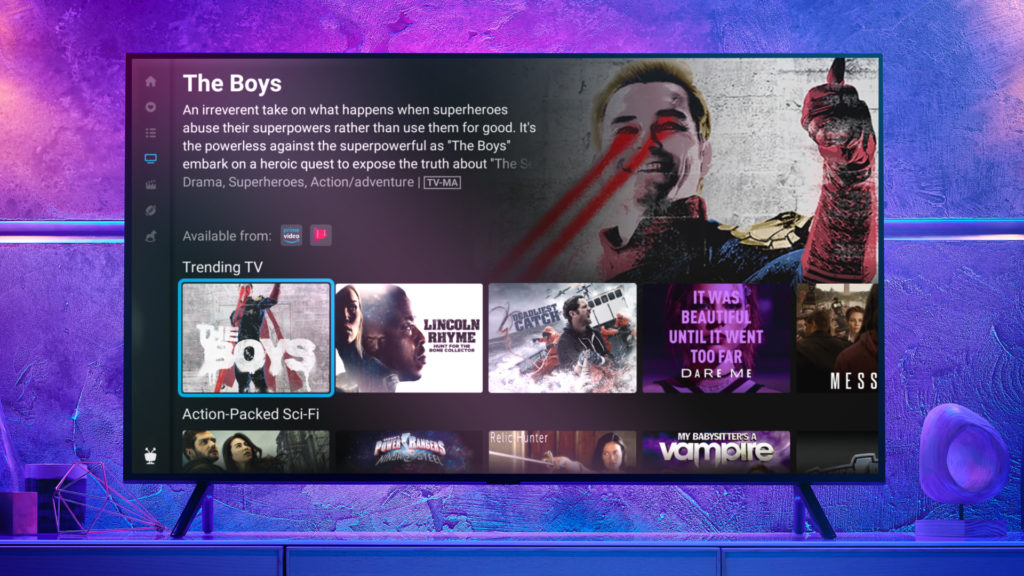 On the other hand, the grid guide maintains a prominent position in the user experience given that it remains the simplest way to navigate live TV – a tried and true navigation paradigm that has persisted for decades.  Channel up, channel down has come to define relaxing in front of the TV, and we have no intention of trying to change this tradition.
Where we are innovating, however, is in handing you the reigns of control over the Guide.  Going forward, you'll be able to choose which services flow through the Guide, combining vMVPDs, AVOD services, and services like Locast to strengthen your local line-up.  By allowing you to choose your linear line-up, you'll be able to better control your experience, and also better control how your entertainment budget is allocated.
We'll continue to update this blog on a regular basis going forward.  You can rest assured that we're listening very closely to your feedback, and taking your viewpoint into account as we chart the course forward.