TiVo Stream 4K brings premium, live content to your fingertips with the tap of a button or a voice command utilizing the all-new YouTube TV integration.
TiVo Stream 4K's integration of YouTube TV includes more than 85 of the most popular linear TV channels, including ESPN, NFL Network, Fox Sports 1, CNN, Food Network, and TNT, among several others. Our integration with YouTube TV is seamless and efficient, making controlling the viewing experience easier than ever from the comfort of your couch.
With March Madness starting next week, we have you covered on the hardwood with all the live action on YouTube TV. Who wouldn't be excited for the most exhilarating month-long tournament in sports where buzzer beaters and Cinderella stories highlight the best that college basketball has to offer? If sports aren't your thing, have no fear, TiVo has something for everyone. From ABC's The Bachelorette and FOX's The Masked Singer to HBO's Euphoria and Food Network's Diners, Drive-Ins and Dives, YouTube TV brings you access to the hottest and latest shows available.
We're excited to bring more of your entertainment together by introducing Youtube TV to the TiVo Stream 4K.
Guide: Quickly find your favorite sports, entertainment, comedy, and news as your YouTube TV channels will be displayed in TiVo Stream's Guide. You can even add your favorite channels to the top of the Guide for easy access!
Browse Screens (Home, TV Shows, Movies, Sports, and Kids): Content that is on live TV or upcoming on YouTube TV will be discoverable in "Browse Screens" throughout the Stream user experience making finding what you want to watch seamless and efficient.
Search (Voice and Text): Users can utilize TiVo Stream's voice and text search to find live and upcoming content on YouTube TV for a seamless interaction between the two platforms.
To view YouTube TV channels and content in Stream 4K, make sure the YouTube TV application is up to date in the Google Play app store.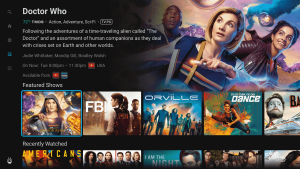 The process of adding YouTube TV to the Stream app can be broken down into a few simple steps:
Download or update the YouTube application from the Google Play Store and sign into the application.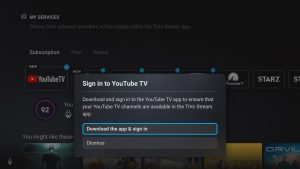 Once you have signed into YouTube TV on your TiVo Stream 4K, it's time to enable viewing of accessible content. Go to My Services in the TiVo Stream application and make sure YouTube TV is selected.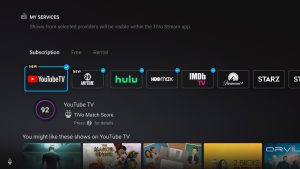 Once you have enabled YouTube TV on My Services, your channels will automatically appear in the TiVo Stream Guide. VOILA, you're ready to stream all the live sports, entertainment, news and so much more. Let's party!