My Shows
The My Shows list contains all of your recordings, plus links to your streaming videos from video-on-demand, sports and apps like Netflix, Hulu, and more. And in the new TiVo experience, it's designed to deliver your shows more quickly and more beautifully than ever before.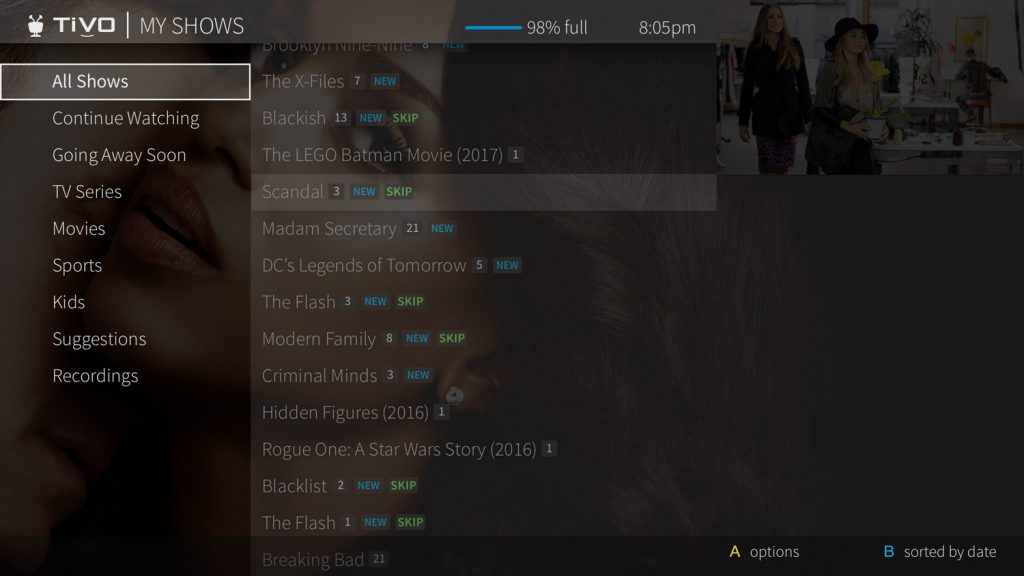 This feature is available on:
Any TiVo DVR using the new TiVo experience
Any TiVo Mini (connected to a TiVo DVR using the new TiVo experience)
To get to the My Shows list from the Home screen, just press the TiVo button or select 'My Shows.' To get to My Shows from any other menu screen or from live TV, just press the TiVo button  twice.
Filters
Filters in the left pane of My Shows let you narrow your My Shows choices instantly. Filters include Continue Watching (shows you've been watching most recently), Movies, TV, and Kids. As you highlight a filter, your My Shows list will update automatically.
Shows & Movies
In the main area of My Shows, you'll find all of your OnePass selections, single recordings, WishList searches, and bookmarked shows and movies.
OnePass Shows
(TV Series) As you scroll through your My Shows list, icons next to a series title tell you at a glance where you'll find new episodes, SkipMode episodes, and recordings. Use the UP and DOWN arrows to scroll through the list, or use CHANNEL UP/DOWN to page through the list quickly. Press ADVANCE to jump to the end of the list. Press it again to jump back to the beginning.
Highlight a series title, and do one of the following: Press PLAY to start playing all recordings in the group Press OK/SELECT to go to the Series screen. In the left column of the Series screen, you'll see options for watching or exploring the show. Watchlist, which what you'll see when you first enter a Series screen, displays episodes included in your OnePass. For example, if your OnePass includes recordings and streaming videos starting with Season 5, then those episodes appear in your Watchlist. The Series screen also lets you browse recordings only (if available), all episodes, upcoming episodes; learn about the cast; or view/change OnePass options. Icons next to episodes tell you which episodes are recordings, partial recordings, recordings that will be deleted/expire soon, and shows available from streaming providers. Note that sometimes a show can be a recording and also available from a streaming provider. Highlight an episode and press OK or PLAY to start watching. As the episode ends, the next episode will start automatically if Auto Play is turned on.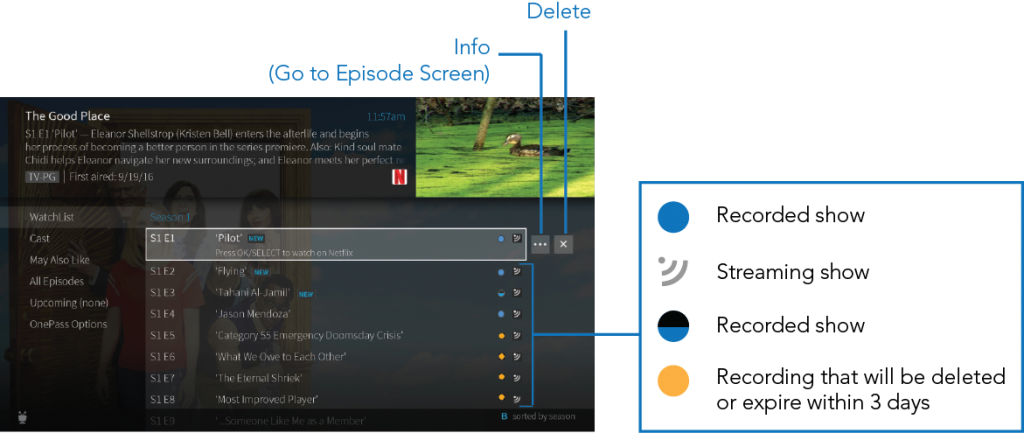 To learn more about the selected episode, highlight it on the Series screen, then move to the right to select the Info icon […]. This will take you to the Episode screen, where you can get viewing options and more. To delete the episode, move to the right again and select the Delete icon [x].
Auto Play
When you reach the end of an episode, TiVo's Auto Play feature starts playing the next episode in a series automatically. When you near the end of an episode, a panel will be displayed at the bottom of the screen containing a countdown timer and other options. Let the timer run out, and the next episode will begin playing. Press OK to start playing the next episode sooner, or press the RIGHT button to watch from a different video provider.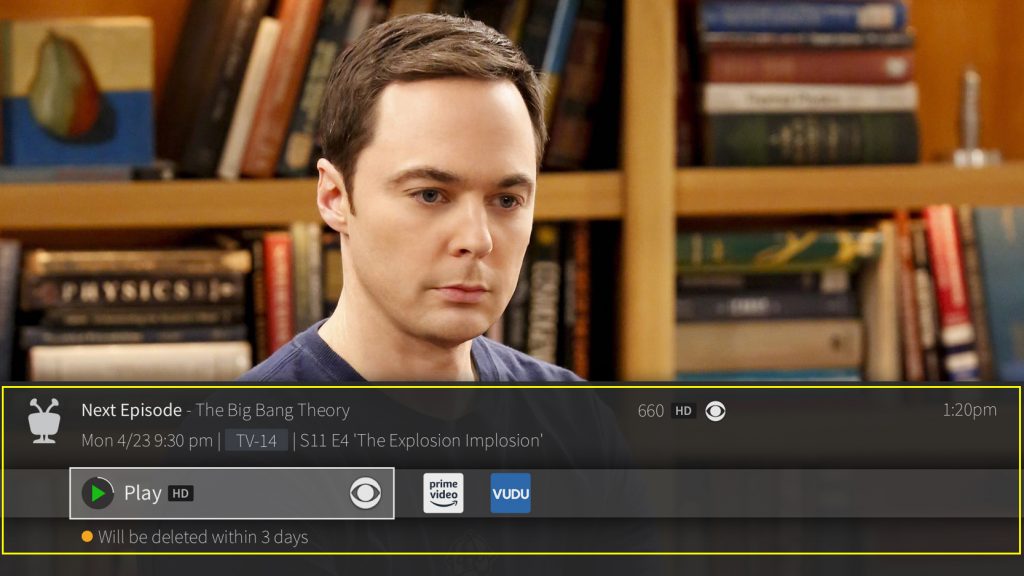 If you would rather not have the next episode start automatically, go to User Preferences > Auto Play Next Episode to turn the countdown timer off. You will continue to see the Auto Play panel when you near the end of an episode, but the next episode will no longer start unless you manually select a viewing option.
Movies
You'll find movies in the Movies or All Shows filter of My Shows (bookmarked movies will be grouped in Streaming Movies folder). Note that if the Kids filter is present, kids movies appear in the Kids filter, not in the Movies filter. If the Kids filter is not present (because you have unchecked it in My Shows options), all movies will appear in Movies.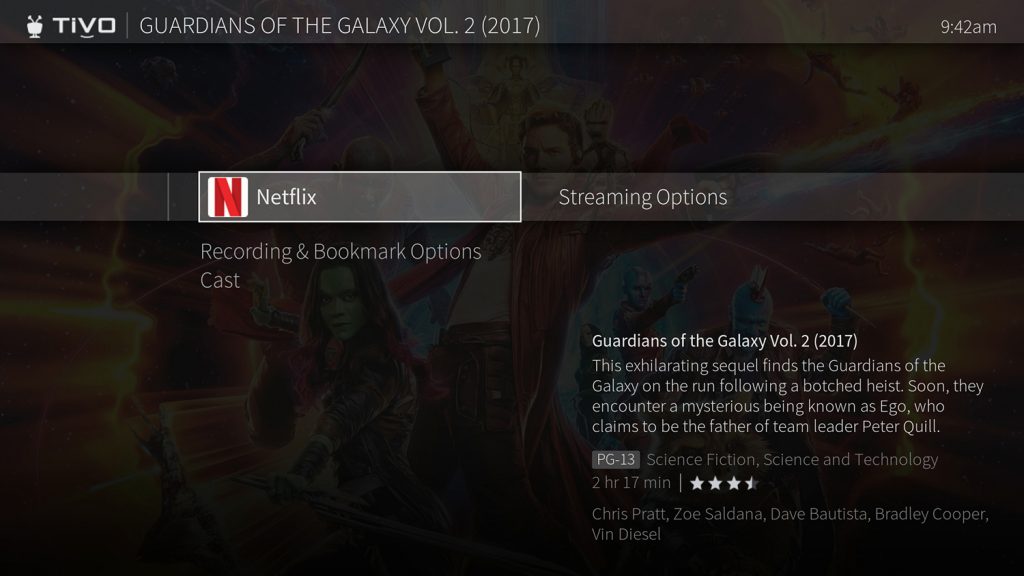 Deleting Shows & Movies
To delete an individual show or a series, highlight it in the main My Shows list and press CLEAR on your remote. If you are deleting a series that contains recordings, you'll have the option to replace the recordings with links to streaming videos instead. This option can be useful if you are trying to conserve disk space.
My Shows Options
Use My Shows Options to customize My Shows to your preferences. From the main My Shows list (not from an Episode, Series, or Movie screen), press A to go to the Options screen. Sort list: Choose to view the My Shows list by date (with the most recently added shows at the top) or by name (alphabetically). Filters: Choose which categories should appear in the Filter strip, and in what order.