So, you've set up your backyard movie theatre for the summer. You've hosted a Backyard Broadway night, spent the day making cardboard box cars with the kids for a Drive-In Backyard Movie Night, and you've even had a romantic Backyard Date Night. 
Now let's get a little crazy.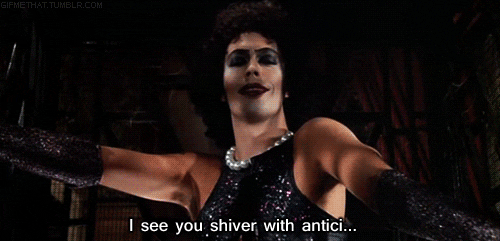 Stay up late and host a cult movie midnight showing, complete with costumes, line recitals, and audience participation.
______
What to Watch
Whether you want to go cult classic or go creepy, here are a few suggestions of shows playing now.
What to watch: Rocky Horror Picture Show | Where to find it: Prime Video, Google Play
Brush up on the Time Warp, get your rice ready. And as far as shouting insulting lines at the screen? You better plan it, Janet.  Study this guide to  "Rocky" audience participation.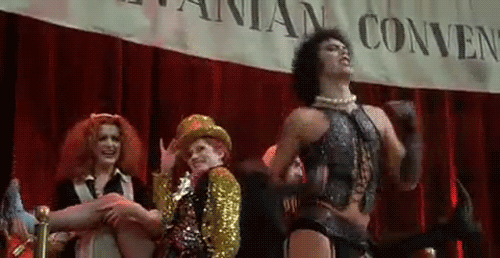 What to watch: Attack of the Killer Tomatoes | Where to find it: Prime, Prime Video
Part creepy, part kitschy. Perfect for a #BackyardMovieNight. To prepare, watch this video of the "terrifying" opening scene:
What to watch: Repo Man | Where to find it: Prime Video, Google Play
Want something on a similar creepy/ kitschy scale, but with more Emilio Estevez? We can't blame you. Repo Man centers around a Los Angeles down-on-his-luck punk rocker slacker who picks up a new, otherworldly job.

What to watch: Night of the Living Dead | Where to find it: Prime Video, Google Play
For something even spookier, we can't think of a film more creepily suited for outdoor viewing than Night of the Living Dead. The 1969 cult classic warns us of the new threat of the recently deceased…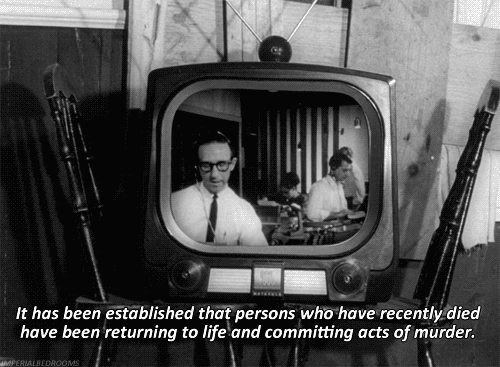 ______
What You'll Need
Spend a day shopping online for decorations and the right gear, and ordering snacks and takeout. Then get out there with the family and set up the perfect theatre. Hang string lights, print out some movie posters on a few sheets of paper, and set up some comfy seating with pillows and blankets in case the little ones get sleepy.
Here's what you'll need to help make your midnight #BackyardMovieNight a success:
A projector (there are tons of options available in a variety of price points either to buy or to rent)
A screen: If you have a large light-colored wall, great. If not, use a white or beige bed sheet, or if you think you might make this a regular occurrence, consider purchasing a projection screen.
Decent sound: Depending on your projector, you may want to set up an auxiliary portable speaker.
Comfy blankets and pillows: get cozy and have blankets on hand just in case it gets chilly when the sun goes down.
Seating: Lawn furniture, piles of cushions, an inflatable mattress, or go all out and drag the sofa outside.
A heads up (or invite?) to the neighbors. Don't forget to allow for some social distancing if inviting others.
Classic snacks: fresh popcorn and other movie munchies.
Enough beverages: soda, water, juice, and hot cocoa if it's chilly out.
A day and evening free to set up and enjoy your perfect backyard movie night!
A strong WiFi connection: make sure it's nice and steady where you're setting up your movie so you're not bugged by interruptions. 
A few choice decorations: String lights, photocopies of cult movie posters, and a few fun party favor movie props can help make it memorable.
______
Send us a pic!
Whatever you end up watching, make sure to tag @TiVo (or @TiVoStream4K on TikTok) in your #BackyardMovieNight posts on Instagram, TikTok, or Twitter! We may just send you a fun surprise.
________
© Xperi. All rights reserved. TiVo, the TiVo logo, and the TiVo silhouette logo are trademarks or registered trademarks of TiVo Brands. All other trademarks are the property of their respective owners.