During the last week of May, members of Xperi headed to Cologne, Germany for the annual ANGA COM conference and exhibition. The event is billed as the place where Broadband meets Content and is a key date in the European calendar. This year's programme covered everything from Fibre rollout strategies to UX design to the latest trends in the OTT space.
At the show, the Xperi and TiVo team highlighted our TiVo IPTV and Discovery Solutions as well as showcased our newly launched independent media platform, Powered by TiVo.
With our IPTV Platform you can attract, engage and retain subscribers with a content-first entertainment experience they'll love, on any device, and future proofed to help you stay ahead.
Discovery Solutions deliver personalised recommendations, natural voice recognition and insights for a superior entertainment experience in your environment.
TiVo's leading independent media platform revolutionises smart TVs to enable extraordinary experiences for customers. With an award-winning experience, meaningful scale and built with lifetime customer relationships, the industry is selecting Powered by TiVo as its next independent smart TV OS platform.
The team also participated in two speaking sessions. Patrick Byrden, VP of business development and strategy, discussed the need for an independent media platform in the smart TV and automotive space and how TiVo is filling this gap in the market with a unique proposition that meets the needs of TV OEMs and vehicle manufacturers.
In our second presentation, Matthias Hahn, senior sales director for the DACH region , discussed how hyper-personalisation and a deep understanding of content through rich metadata, as well as the power of your voice, interact to cut through and help customers to find, watch and enjoy the content they want to see.
To find out more about the solutions we showcased at ANGA COM contact getconnected.emea@tivo.com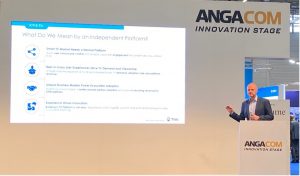 Patrick Byrden, VP business development and strategy discusses what we mean by an independent media platform.

ANGA COM Night overlooking the river at the Rheinterrassen Köln.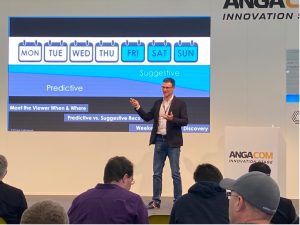 Matthias Hahn, senior sales director explaining how predictive and suggestive algorithms are used in content discovery.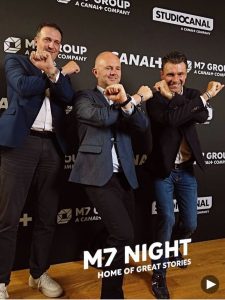 Gabriel Cosgrave, GM EMEA, Patrick Byrden and Matthias Hahn creating Xtraordinary experiences in Cologne.