Blue Ridge Communications, a Northeast Pennsylvania-based TV, phone and internet provider serving 200,000+ customers, launched TiVo Experience 4 in 2018. Their customers liked the idea of using voice search to find what to watch, and appreciated the simple, intuitive experience for accessing live, on-demand, recorded and OTT programming.
With results including a skyrocketing video sell-in rate from 16% to more than 67%, reduced churn and a huge usage lift, the TiVo-Blue Ridge Communications partnership is a great success story. This win-win is detailed in a case study, available now.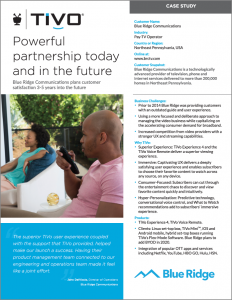 © 2019 TiVo Corporation. All rights reserved. TiVo and the TiVo logo are registered trademarks of TiVo Corporation and/or its subsidiaries worldwide.