TiVo released the 20th edition of its quarterly video trends report today, including insights across content discovery, pay-TV, over-the-top (OTT), TV network apps, streaming devices and smart home devices.
Based on a survey of more than 3,300 consumers, the Q4 2017 Online Video and Pay-TV Trends Report covers key quarter-over-quarter (q/q) and year-over-year (y/y) trends, including:
A breakdown of top channels desired by U.S. and Canadian respondents in à la carte pay-TV packages, along with historical trends regarding ideal pricing for the top 20 channels
Respondents' sentiments about cross-catalog guides and content discovery
Viewership data on social media networks streaming high-profile sporting events
Additionally, the report covers topics such as:
The most popular smart speakers, and how respondents use them
Respondents' preferred devices for and opinions on efficacy of voice search
The viewing habits of respondents who stream sporting events
Smart Speakers
In Q4 2017, almost 22 percent of respondents indicated they owned a smart speaker, which was an increase of just under 7 percent q/q. The respondents using either Amazon's Echo or Dot was 57 percent, compared to the 35.5 percent of respondents indicating they used Google Home.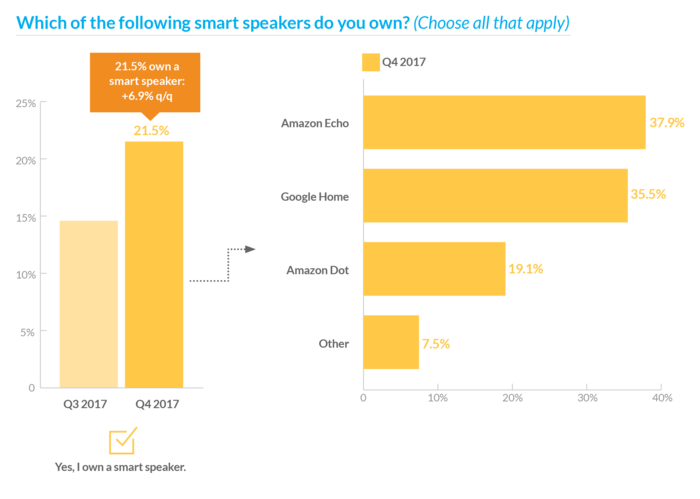 And, according to survey responses, the top uses of smart speakers is:
Playing music
Asking general knowledge or trivia questions
Setting timers/reminders
Streaming and watching video content on a TV
See pages 28-30 for related findings.
Voice Search on Streaming Devices
Survey respondents indicated they were using voice functionality on their voice-enabled devices, and they engaged most with Apple TV and the TiVo BOLT VOX™. We believe the number of users taking advantage of voice search will grow dramatically as consumers upgrade to new voice-enabled streaming devices.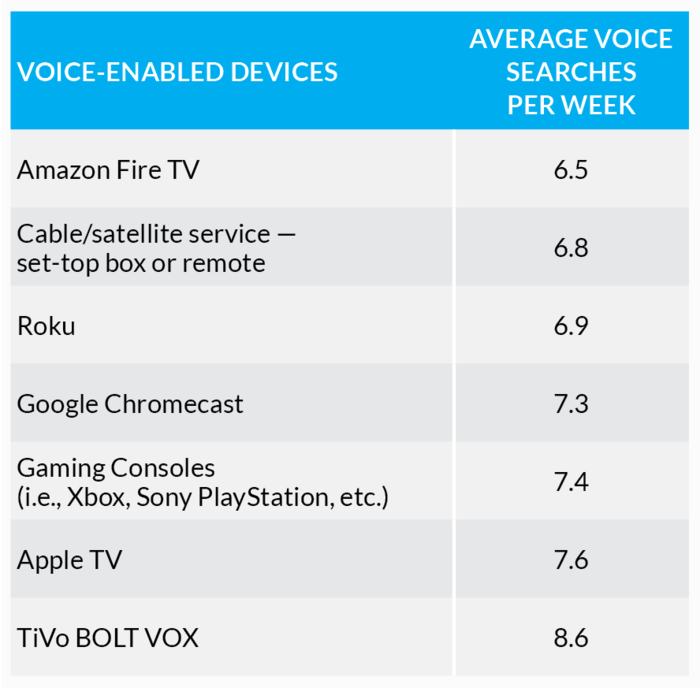 See page 39 for related findings.
For more stats, insights and analytical commentary based on the latest survey findings, download TiVo's Q4 2017 Video Trends Report now.
© 2018 TiVo Corporation. All Rights Reserved. TiVo and the TiVo logo are registered trademarks of TiVo Corporation and its subsidiaries worldwide.