TiVo released the 18th edition of its quarterly video trends report today, including insights on pay-TV vs. over-the-top (OTT) user experiences, the challenges faced by sports networks, the truth about voice search and more.
Based on a TiVo survey of more than 3,050 consumers, the Q2 2017 Online Video and Pay-TV Trends Report covers key quarter-over-quarter (q/q) and year-over-year (y/y) trends, plus:
A breakdown of top channels desired by U.S. and Canadian respondents in an à la carte pay-TV package, along with historical trends regarding ideal pricing for the top 20 channels
Viewership data on social media networks streaming high-profile sporting events
Respondents' sentiments about cross-catalog guides and content discovery
Data illustrating the effect of content recommendations on respondents' ability to find something to watch.
A survey of "Home Assistant Devices," such as Amazon's Echo, and an analysis of device integration with respondents' TV viewing
Cable à la Carte
In Q2 2017, not surprisingly, almost 80 percent of survey respondents said they only wanted to pay for the cable channels they actually watch. In the U.S., the average price respondents are willing to pay for the top 20 channels is $29.97 (almost 6 percent higher than last quarter); in Canada that average price is $26.34 (just over 3 percent more than last quarter). While many of the top-rated networks available via OTA DVR (over-the-air; read: free and otherwise accessible via antenna) are among the most-wanted channels in à la carte packages, respondents confirmed they will pay a premium for valued channels.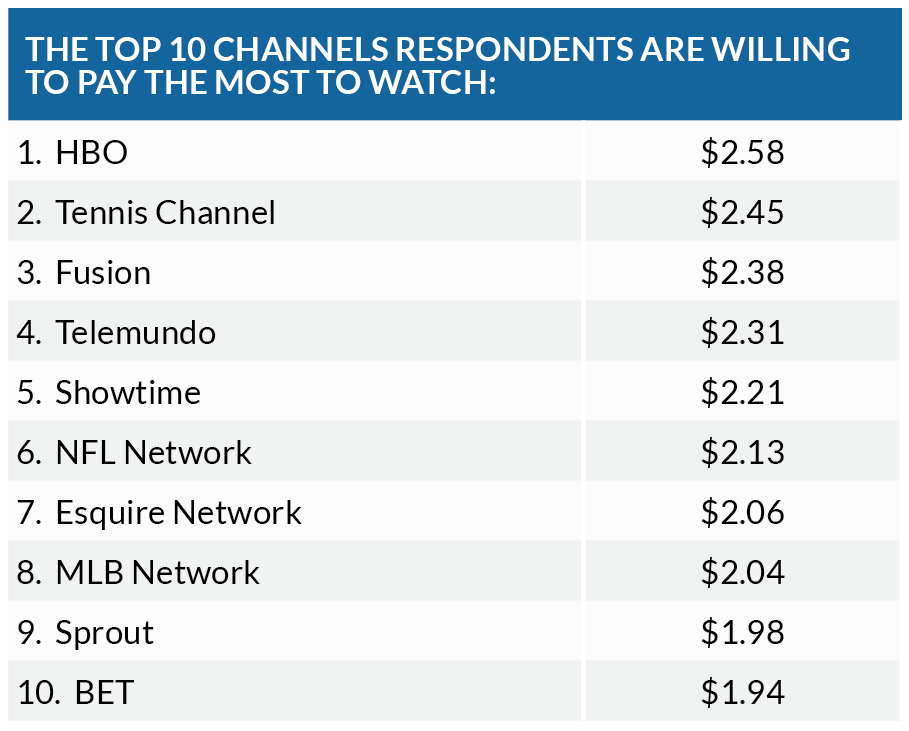 See page 9 of the report for related findings.
Skinny Bundle Segmentation
TiVo's Data Science Team explored "skinny bundle" offerings from virtual multichannel video programming distributors (vMVPDs; i.e., Sling, PlayStation Vue, Hulu TV, DIRECTV Now, YouTube TV). These companies are looking to appeal to consumers by offering smaller channel packages at a lower cost than traditional MVPDs. Survey findings suggest the narrow concentration on sports and medium-to-large channel offerings in vMVPD skinny bundles met the needs of needs of less than half of all survey respondents. Rather than creating a limited number of offerings with too many unnecessary channels for their à la carte packages, TiVo believes vMVPDs are better off replacing lesser-desired channels with more popular ones in an expanded list of skinny bundle interest categories to gain more market share.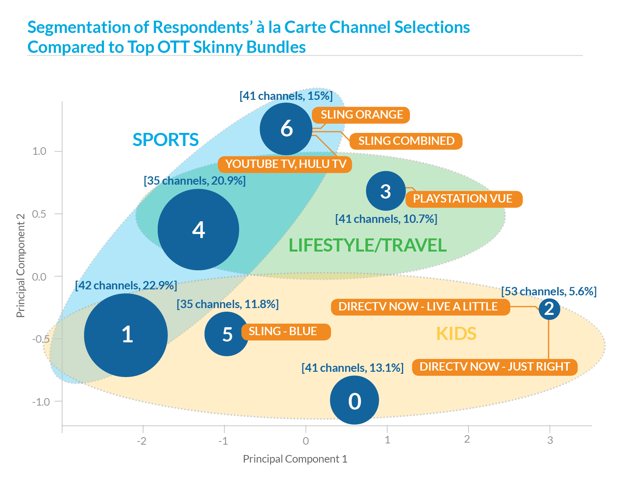 See page 12 of the report for related findings.
Rethinking the Guide … or Not
Finally, survey findings revealed those who wish to see next-gen user experiences (e.g., carousel format) integrated into their channel guides increased slightly q/q, although the number of respondents not interested in curated video content (i.e., they favor the traditional grid guide) held steady at just under 50 percent of respondents.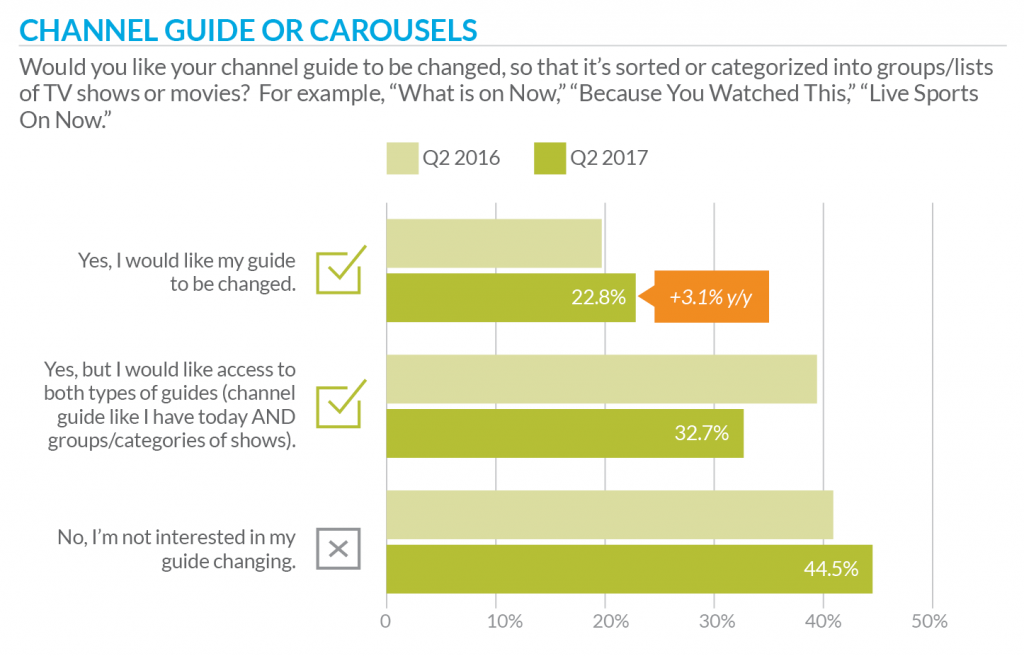 See page 18 of the report for related findings.
© 2017 TiVo Corporation. All Rights Reserved. TiVo and the TiVo logo are registered trademarks of TiVo Corporation and its subsidiaries worldwide.