TiVo Research announced the results of the TiVo Spring 2014 Binge-Viewing Survey today and the findings show that binging is the preferred method of consuming our favorite shows! In fact, 91 percent of the 15,196 survey respondents report binge-viewing as common viewing behavior, while 40 percent of respondents had binged within a week and 69 percent had binged within a month of the survey.
Respondents also said the top reasons they binged was to "catch up" on TV and because they "only had learned about the show after many episodes had already aired." Twenty-nine percent of respondents deliberately put off watching an entire season of a show until they could watch the whole season at once! This is a trend TiVo Research expects to grow.
Beyond binge-viewing three or more episodes of a series in a day, the TiVo Research survey also investigated another binging habit: Watching an entire season (or more) of a specific program over multiple days. Three-quarters of survey respondents reported participating in this type of "super-binge" activity, with 14 percent having done so in the prior week and 23 percent having done so between a week and a month prior to taking the survey.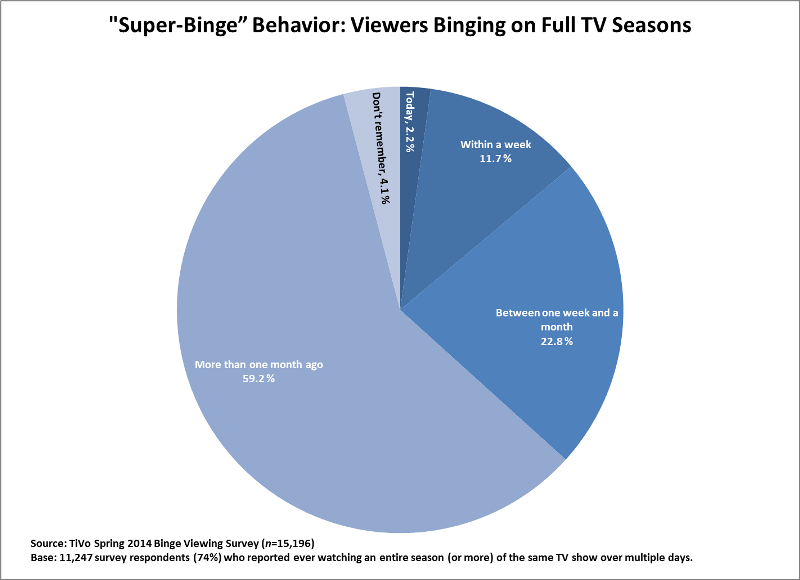 Binge-Fodder of Choice
When asked to choose which of the following popular programs they had ever binged-viewed, 35 percent of respondents selected "Breaking Bad," which TiVo Research also reported as the most-binged show in January, and 29 percent mentioned House of Cards.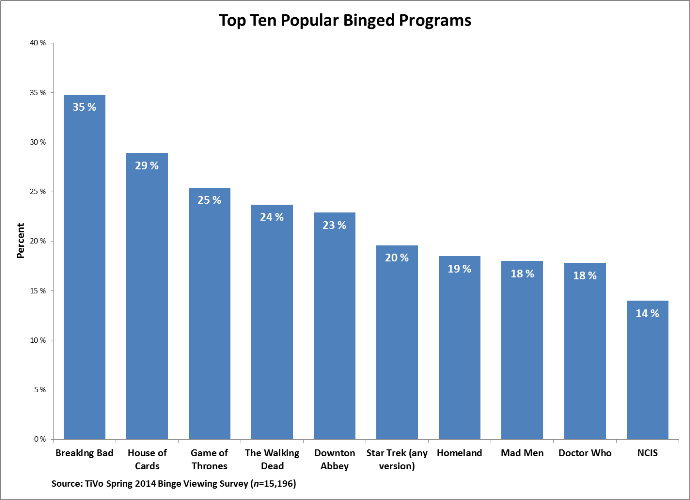 Other fun findings include:
Over half (52 percent) cited TiVo as the most common source of the episodes of programs binged; Netflix placed second at 29 percent
46 percent cited Netflix as the most common source for binge-viewing an entire season (or more) with TiVo coming in second at 19 percent
Another 46 percent stated TiVo is the most common device they utilize to binge view an entire season (or more)
TiVo Binge Month and TiVo Binge Watcher of the Week Sweepstakes
In celebration of binging success, July has been named TiVo Binge Month! Stay out of the hot sun and visit the TiVo Collections Page to view unique binge collections, such as the Bill Murray Collection, Bad Superhero Movie Binge Collection and Politics Schmolitics Collection. You can also find retro collections that include such classics as Cheers and Buffy the Vampire Slayer, or catch current hits Breaking Bad, House of Cards and Mad Men.
Follow along on social with #TVBingeMonth; and throughout the period of July 1st through July 27th, we invite you to upload your #BingeMonthSelfie to TiVo's Facebook landing page (www.facebook.com/tivo). We will randomly pick a TiVo Binge Watcher of the Week for every week in this July period. Instructions for uploading and submitting photos, and the full Official Rules for this Sweepstakes, can be found at www.facebook.com/tivo