The temperatures were low (the coldest game day in history, actually), but the heat was on at the U.S. Bank Stadium in Minneapolis for the NFL Championship matchup between the New England Patriots and the Philadelphia Eagles. From the pre-game pomp to the "brief equipment failure," to Justin Timberlake's paint-the-town-purple halftime show, to the Eagles' 41-33 victory, it was a thrilling game.
The commercials didn't disappoint either, giving us kumbaya moments, TV and movie previews (Westworld! The Han Solo movie! Avengers: Infinity War! Jurassic Park's Dr. Ian Malcolm returns!), Cardi B as Amazon's Alexa, rapping Peter Dinklage and more than a few reminders of the upcoming Winter Games in PyeongChang. According to TiVo data, here are the top 10 commercials:
TiVo's Top 10 Commercials
And, what a way for Philly to finally (finally!) take home the Vince Lombardi Trophy! Here are the top three most engaging moments from the game:
Eagles tight end, Zach Ertz, makes a close-to-call touchdown catch.
Eagles quarterback, Nick Foles, makes a successful touchdown catch with a trick play.
Patriots quarterback, Tom Brady, fumbles at the end, sealing the deal for the Eagles.
Download the TiVo Post-Game Report
We've compiled the top commercials and game moments in TiVo's Post-Game Report. Click the image below to download it now.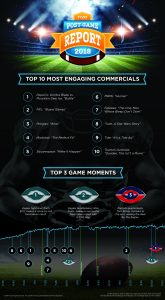 Source: TiVo Corporation

Methodology:
TiVo's analysis was prepared using aggregated, anonymous, live + same-day second-by-second audience measurement data from households with the Emmy-award winning TiVo® service. TiVo gauges the interest in programming content by measuring the percentage of the TiVo audience watching or re-watching any given moment in the programming. The most engaging ads and promotions are determined by looking for spots with the biggest bump in viewership relative to the surrounding 15 minutes of programming, offering a true reflection of change in viewership.
© 2018 TiVo Corporation. All Rights Reserved. TiVo and the TiVo logo are registered trademarks of TiVo Corporation and its subsidiaries worldwide.