In July, the NCAA adopted a new, sweeping rule allowing student athletes to sign endorsement deals with sponsors. Experts predicted this change would turn college sports into "the wild, wild west" as athletes and brands establish footholds in the new sponsor landscape. TiVo saw it another way.
"We've always looked at television from a different angle," says William Chamberlain of TiVo. "TiVo doesn't play favorites with content, and now we're bringing those same values to college football." 
Read on to learn how TiVo is breaking new ground by partnering with 90 athletes on the Georgia Tech Yellow Jackets—the biggest full-team NIL deal to date.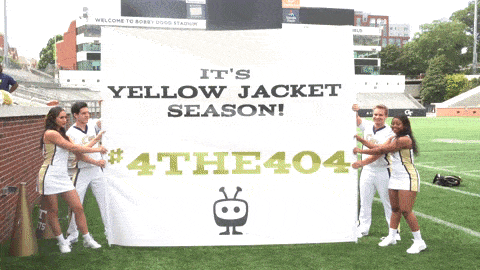 Breaking New Ground in Student Sponsorships by Leveling the Playing Field
TiVo has paired up with the Georgia Tech Yellow Jackets to set a new standard for how companies can engage with student athletes, just as TiVo Stream 4K has set a new standard for how consumers engage with content. "We saw a way to forge a new path for how brands could establish relationships with college players," says Chamberlain. "And we're not limiting our sponsorship to high-profile players." 
Unlike many sponsorships that focus on a single athlete, TiVo offered a contract to every member of the team—from the starting quarterback to the greenest freshman.
"We leveled the playing field and highlighted every member of the team in this partnership," says Ben Maughan, SVP and GM of Consumer at TiVo. "And this is exactly how the TiVo Stream 4K works with content. We don't prioritize certain channels or apps, all content is equally and easily discoverable based on a viewer's preference. Top content and brand-new content have the same chance to be discovered, without limitation."
Setting the Standard for Quality
TiVo, known for creating a premium home football watching experience with its 4K streaming device, is also enhancing how the Georgia Tech team prepares for games. TiVo upgraded the team's media room with a new projector, a state-of-the-art sound system, a TiVo Stream 4K, deluxe movie seating, and (of course) some cozy TiVo pillows. After a hard practice, a number of athletes were surprised with some silk TiVo PJs to relax in. And every player got a TiVo football, made to the specifications and by the manufacturer of the Yellow Jackets' own game ball.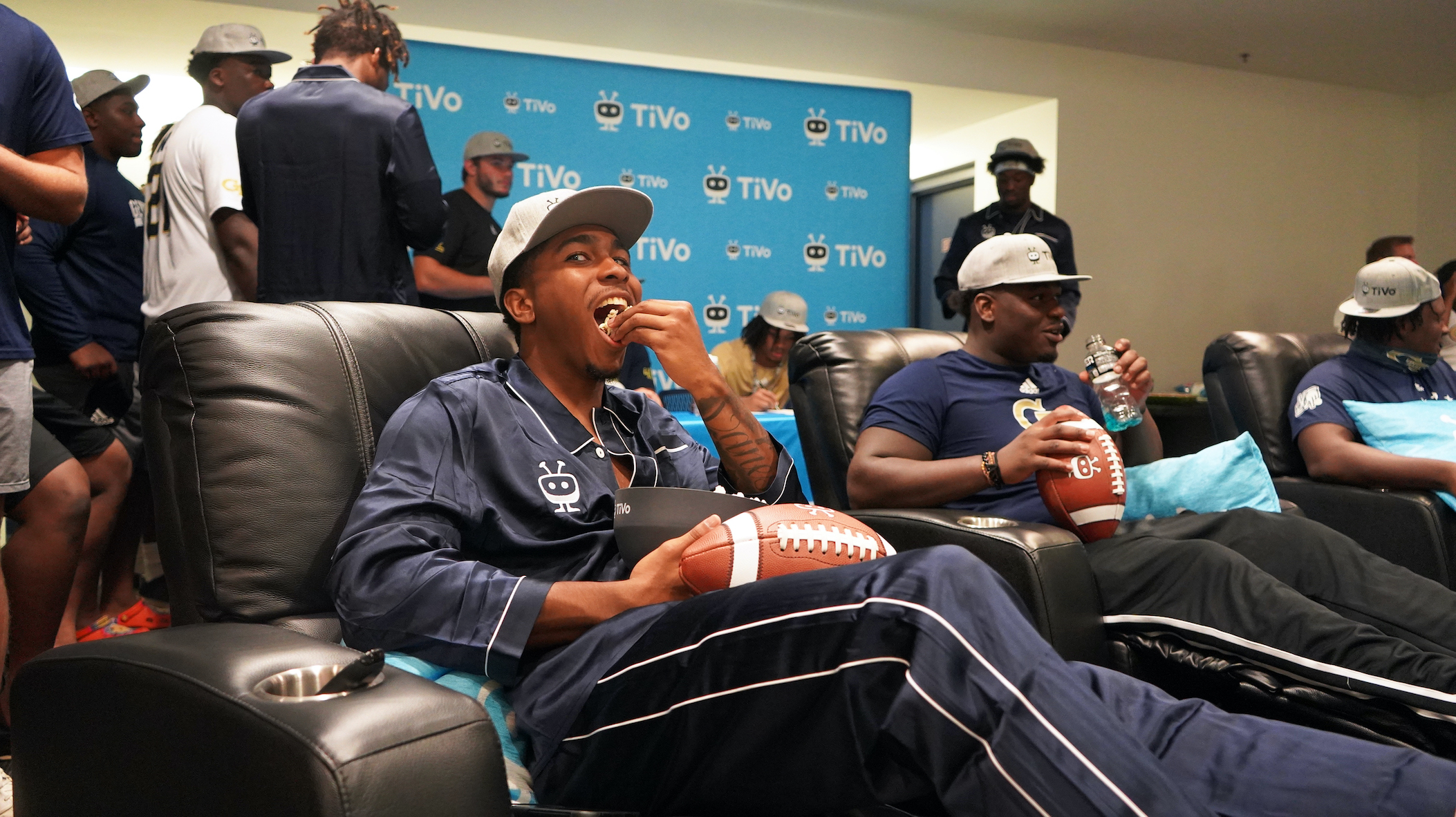 "We wanted to get every detail right," says Maughan. "Every time the players throw their TiVo footballs, they'll feel the same high standards that we put on the TiVo Stream 4K."
In addition to receiving what is for most players, their very first NIL contract, every Georgia Tech player will also receive a TiVo Stream 4K. The TiVo Stream 4K upgrades the football viewing experience by converting any TV into a premium smart TV experience, bringing favorite shows, games and apps onto one hub. TiVo also enriches viewing experiences with 4K sound and video, universal voice search, and 160 free channels on the TiVo+ network, including Fox Sports, NFL Network, CBS Sports HQ, and many others—all at a specially discounted one-time fee of $29.99.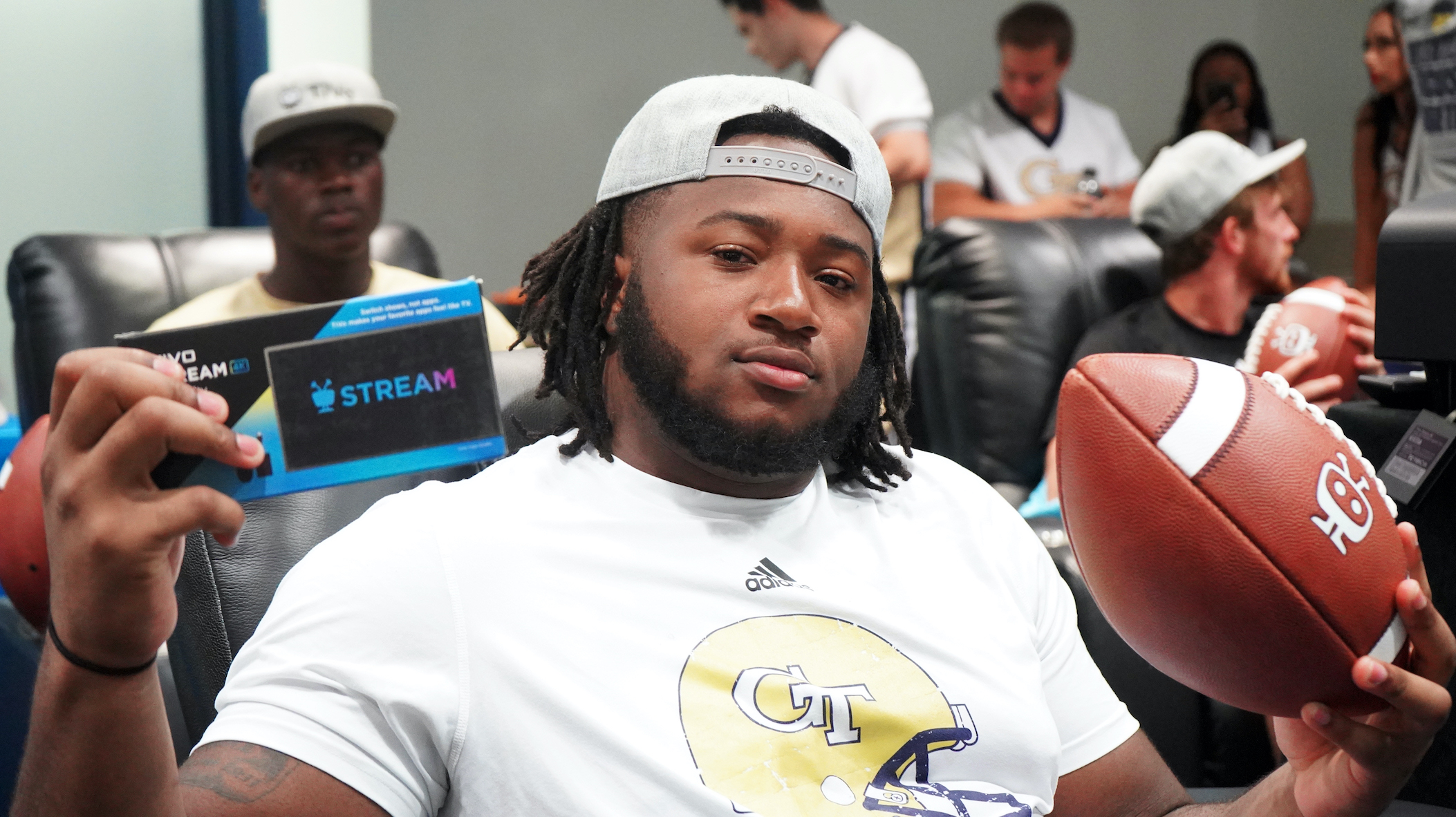 A New Leader in Sports
TiVo is reinventing the way companies partner with young athletes—both on and off the field. And Georgia Tech is not TiVo's only foray into sports.
In June, TiVo put together the TiVo Classic Golf Tournament. Taking place over three days at Lake Tahoe, the event brought together six young star golfers. These social media sensations stayed together at—and broadcast from– the TiVo Tee House, a mega-cabin complete with indoor pool, screening room, and 12 TVs hooked up with TiVo Stream 4K devices.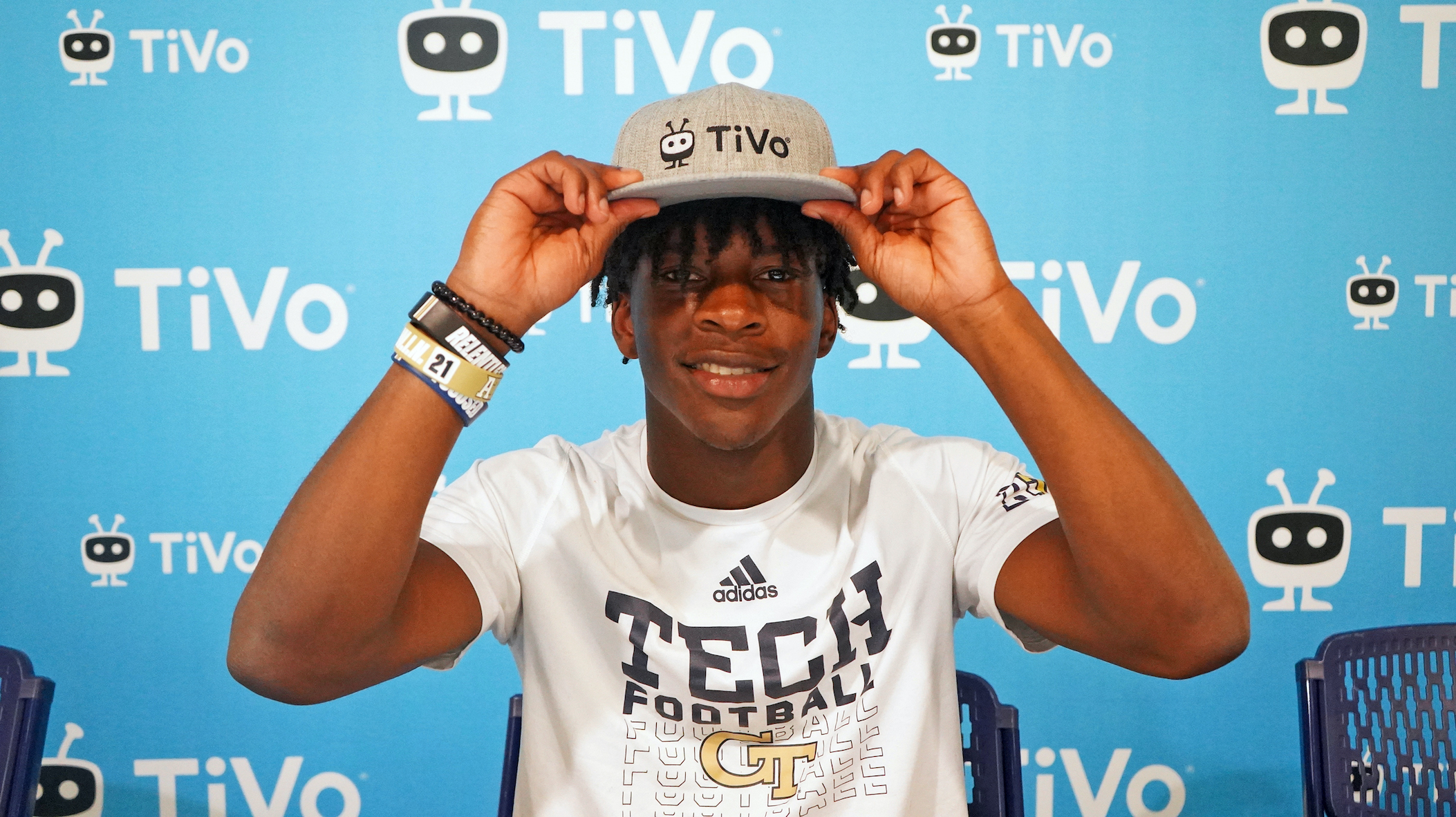 To top it off, TiVo's latest commercial stars Hall of Famer and NFL superstar Tony Gonzalez. Here he is walking you through the basics using TiVo Stream 4K.
Want more? Follow along with our journey with Georgia Tech on instagram. Go Yellow Jackets!  #4the404 #TiVoTouchdown
Press inquiries: Amy.Brennan@xperi.com
---
©2021 Xperi. All Rights Reserved. TiVo, TiVo+, TiVo Stream 4K, the TiVo logo, and the TiVo silhouette logo are all trademarks or registered trademarks of TiVo Brands LLC. All other trademarks and content are the property of their respective owners.