TiVo Releases New Consumer Study at IBC 2017
Mind the Gap: TiVo Survey Illuminates Differences Between Longtime Pay-TV Loyalists and Fickle Newcomers
In advance of TiVo's participation in IBC, the company today released findings from its 2017 survey of pay-TV and over-the-top (OTT) service subscribers across the U.S., Europe and Latin America. The study explores the ever-evolving differences between loyal pay-TV customers and new subscribers.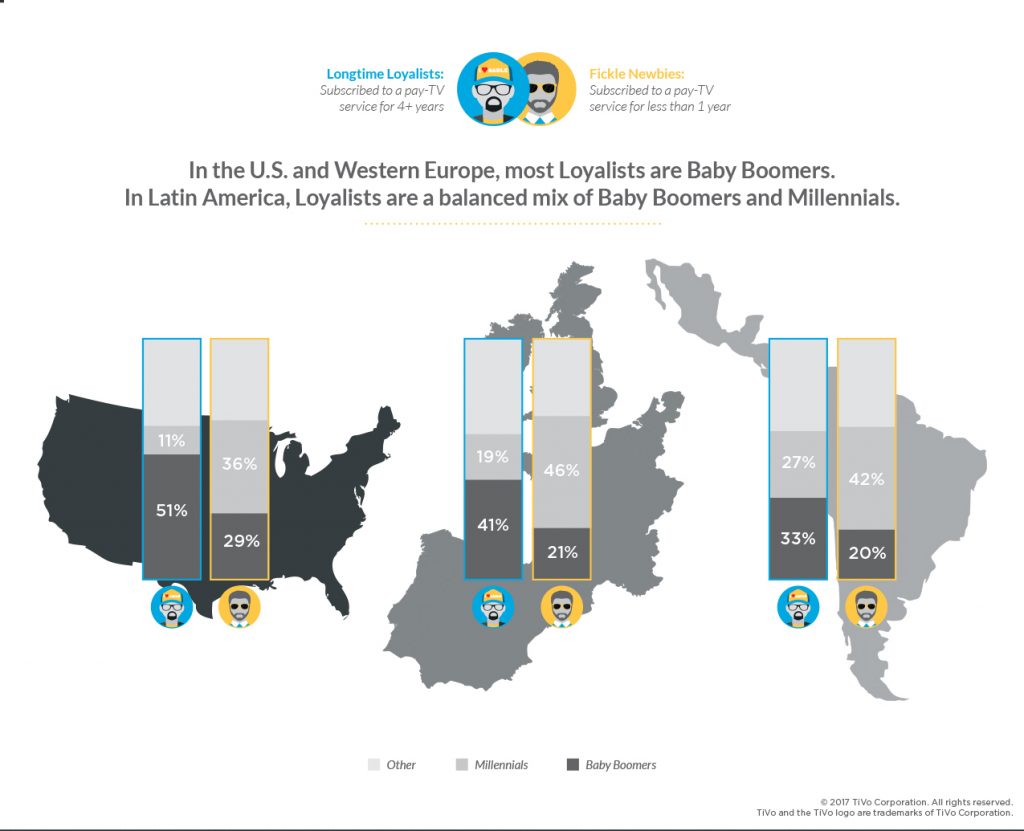 Notable survey findings include:
Respondents watch an astonishing global average of 4.4 hours of video content each day.
One in four "Newbies" (viewers subscribed  to pay-TV services for less than one year) are "extremely likely" to cord-cut or cord-shave in the next six months.
55 percent of pay-TV subscribers in the U.S. are "Longtime Loyalists," who have had their pay-TV subscriptions for 4+ years; in Europe that number is 42 percent.
In Latin America, "Longtime Loyalists" are a balanced mix of Baby Boomers and Millennials.
50 percent of all viewers believe for the amount they pay, it should be easier to find what they want to watch.
You'll find this information and more in the complete report. Click the image below to download it now.

Download the Report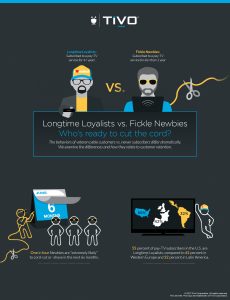 Source: TiVo Corporation
And, See TiVo at IBC September 15-19
Our theme for this year's show is "Stay Ahead," and we'll be demonstrating some of our most exciting technologies, including:
Entertainment Metadata – Video and Sports Metadata
Advanced Search & Recommendations – TiVo's Personalized Content Discovery Platform
User Experiences – Cubi Solutions, TiVo Experience
Look for our exhibit in Hall 5, Stand A31 at the Amsterdam RAI Exhibition and Congress Centre.

Survey Methodology:
TiVo conducted an online survey of 8,500 pay-TV and OTT subscribers across seven countries, with 2,500 interviews completed in the U.S., and 1,000 interviews completed each in the U.K., France, Germany, Brazil, Mexico and Columbia.
© 2017 TiVo Corporation. All Rights Reserved. TiVo and the TiVo logo are registered trademarks of TiVo Corporation and/or its subsidiaries.