March Mania: TiVo Top 10 Moments
The final game of the NCAA Men's Division I Basketball Tournament was a Goliath vs. Goliath matchup dogged with an uneven pace and an abundance of foul calls. Still, the Tar Heels came alive in the last three minutes to best the Bulldogs 71-65 and redeem last year's heartbreak with their sixth national championship win.
While last night's game had its highlights, the penultimate match-ups – Gonzaga vs. South Carolina and North Carolina vs. Oregon – also had noteworthy moments.
Here are the top 10 moments of the final three games of the NCAA Men's Division 1 Basketball Tournament:
Rank
Time
Moment
1
11:23 p.m. ET
UNC vs. Oregon:

With less than 6 seconds remaining in the game and UNC up by one point, the Tar Heels miss two free throws; Kennedy Meeks snags the rebound, securing victory for North Carolina.

2
10:10 p.m. ET
UNC vs. Gonzaga:

UNC's Joel Berry misses a 3-point attempt as the halftime buzzer sounds.

3
8:20 p.m. ET
Gonzaga vs. S. Carolina:

With Gonzaga up by two points, the Zags' Killian Tillie sinks two free throws, sending them to their first NCAA championship.

4
10:33 p.m. ET
UNC vs. Gonzaga:

On their first possession of the second half, Gonzaga turns the ball over on a careless play and UNC's Joel Berry sinks a breakaway layup.

5
9:23 p.m. ET
UNC vs. Gonzaga:

UNC saves a ball from going out of bounds; Kennedy Meeks passes the ball into the hands of Theo Pinson.

6
11:29 p.m. ET
UNC vs. Gonzaga:

With just over two minutes to go, Gonzaga's Nigel Williams-Goss hits a floater to give them a 63-62 lead.

7
6:54 p.m. ET
Gonzaga vs. S. Carolina:

With three seconds to halftime, Gonzaga's Silas Melson sinks a 3-pointer that is waved off upon review.

8
10:05 p.m. ET
UNC vs. Gonzaga:

Right before halftime, UNC's Theo Pinson sinks two free throws to cut the Gonzaga lead to one point.

9
9:55 p.m. ET
UNC vs. Oregon:

Oregon's final possession of the half ends with a Ducks turnover, allowing UNC to carry a 3-point lead into the locker room.

10
6:50 p.m. ET
Gonzaga vs. S. Carolina:

With seconds to go in the half, Gonzaga's Jordan Mathews sinks a 3-pointer to put the Zags up by nine.

Download the Report
We have compiled all this information into a report. Click the image below to download it now.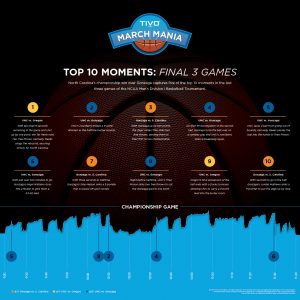 Source: TiVo Corporation

Methodology:
TiVo's analysis was prepared using aggregated, anonymous, live + same-day second-by-second audience measurement data from households with the Emmy-award winning TiVo® service DVR. TiVo gauges the interest in programming content by measuring the percentage of the TiVo audience watching or re-watching any given moment in the programming. The most engaging moments are determined by looking for spots with the biggest bump in viewership relative to the surrounding 15 minutes of programming, offering a true reflection of change in viewership.
© 2017 TiVo Corporation. All Rights Reserved. TiVo and the TiVo logo are registered trademarks of TiVo Corporation and/or its subsidiaries.