The Opera TV App on Your TiVo Unit Just Got Better
Love the Opera TV Store app on your TiVo® set-top box? Starting today, you will see some exciting changes to the user interface that will make navigating through the application even easier.

If you haven't yet utilized the Opera TV Store app on your TiVo unit, the app features more than 350 TV program selections, in categories including Lifestyle, Music, Kids, Nature and Travel, News and Weather, Sports, Social, and Internet TV, among others.
So what's new?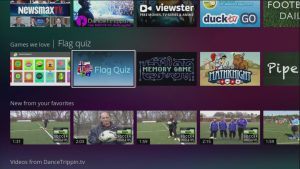 The new user interface features top video picks at the top of the Opera TV home screen; pulls video out of each listed program for easy preview  before downloading; and re-organizes the app categories to make searching more streamlined. Also, the redesigned user interface now houses the "My Favorites" folder within the Opera TV Store app, rather than outside the app. And last, but certainly not least, the app now is named "Opera TV" instead of "Opera TV Store".
Bottom line: the new Opera TV 2.0 enhances your HD viewing experience, and allows you to engage with favorite content on any compatible device screen in your home.
So if you haven't yet checked out the Opera TV app on your TiVo set-top box, go to <TiVo Central – Apps & Games – Opera TV> and check it out!
© 2016 TiVo Inc. All Rights Reserved. TiVo, the TiVo logo, and the TiVo silhouette logo are registered trademarks of TiVo Inc. or its subsidiaries worldwide.