How to Throw Your Own "Sharknado: The 4th Awakens" Viewing Party
Have you checked the weather? There's a storm brewing, and with it comes one of the world's most terrifying catastrophes: a Sharknado.
Yup, the Syfy channel is back at it with "Sharknado: The 4th Awakens", and fans of the popular film series are rejoicing! Since the last film, the "Sharknado" stars have been living life in peace, but unbeknownst to them, new types of Sharknadoes are about to wreak havoc on the cities we know and love.
Now, here at TiVo®, we love "Sharknado." In fact, we love it so much we thought it would be a great idea to live Tweet the July 31st premiere. We also wanted to take our love one step further by showing you how you can throw your own "Sharknado" viewing party.
From alcohol-themed-drinks ('cause, duh) to shark-themed garb, we've got your guide on how to be the "Sharknado" host or hostess with the most-est.
Sharknado Shots: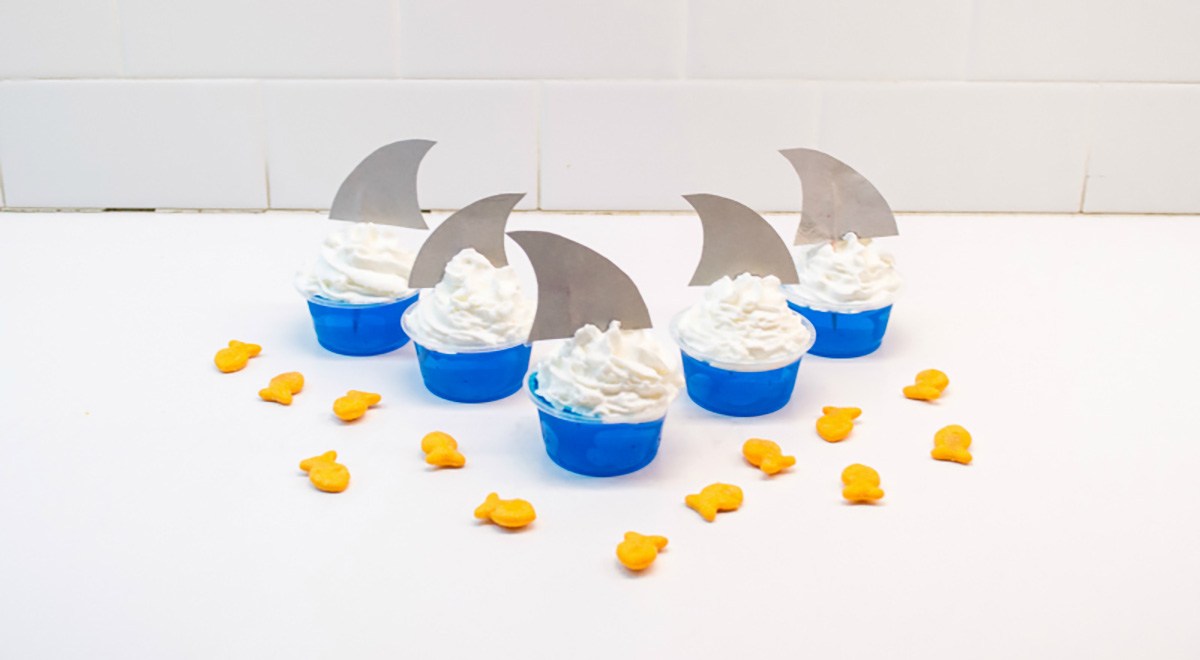 INGREDIENTS
1 (3 ounce) package Jell-O® gelatin
1 cup boiling water
1⁄2 –cup cold water
1⁄2 –cup vodka
whipped cream

DIRECTIONS
Boil cup of water.
Empty Jell-O® powder into a large mixing bowl and add the boiling water.
Continue stirring for two minutes, or until the Jell-O® is completely dissolved.
Combine 1/2-cup cold water and 1/2-cup vodka; pour into 2 oz. cups: fill 1/2 to ¾ of the way.
Top with whipped cream and paper shark fins!
Blood in the Water Mary: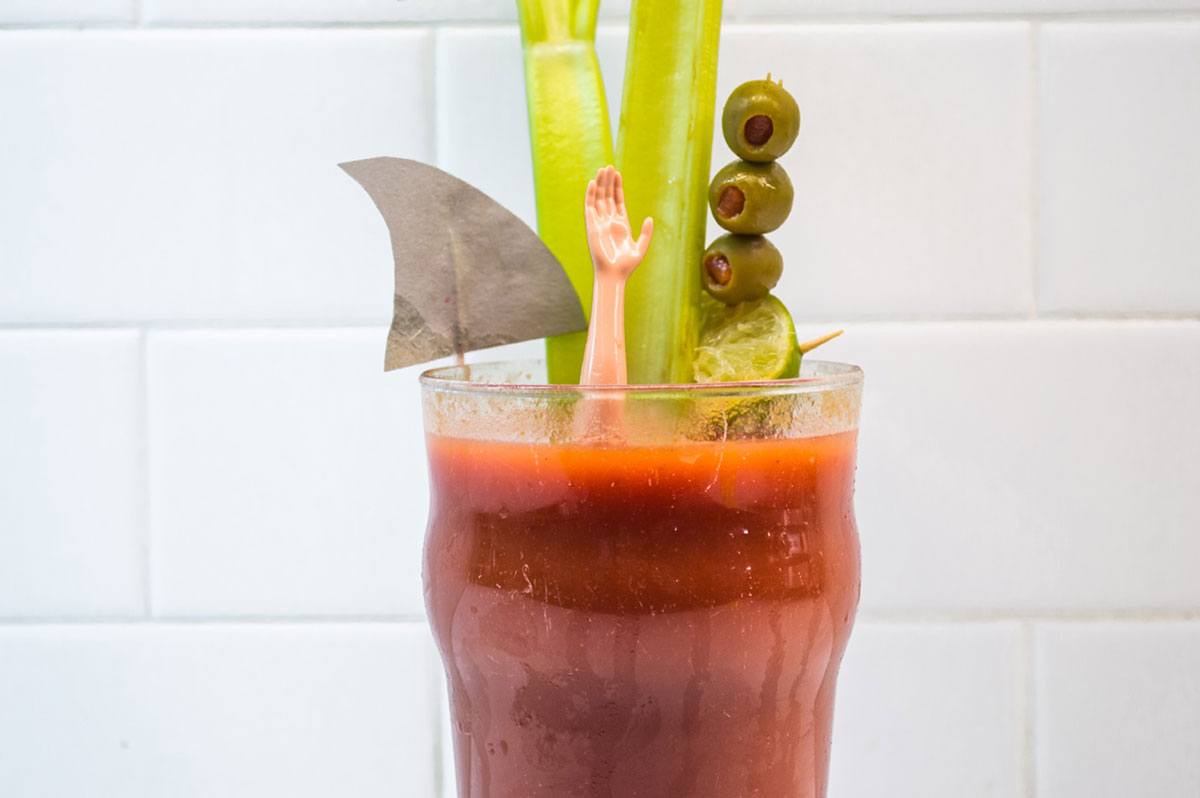 INGREDIENTS

1/4-cup (2 ounces) tomato juice

3 tablespoons (1-1/2 ounces) vodka

1 teaspoon Worcestershire sauce

3/4 teaspoon freshly grated horseradish

3 dashes hot pepper sauce , such as Tabasco®

1 pinch salt

1 dash freshly ground black pepper

1 cup ice cubes

1/4-teaspoon fresh lemon juice

1 stalk celery

1 lime wedge (optional)

1 doll hand, for taste

DIRECTIONS
Combine tomato juice, vodka, Worcestershire sauce, horseradish, hot sauce, salt, and pepper in a glass.
Fill glass with ice, then pour mixture into second glass.
Pour back and forth 3 to 4 times to mix well, then sprinkle lemon juice over.
Garnish with celery stalk, lemon wedge, and doll hand (or head, depending on how gory your party is!).
Get bloody with it!
Shark Attack Hat: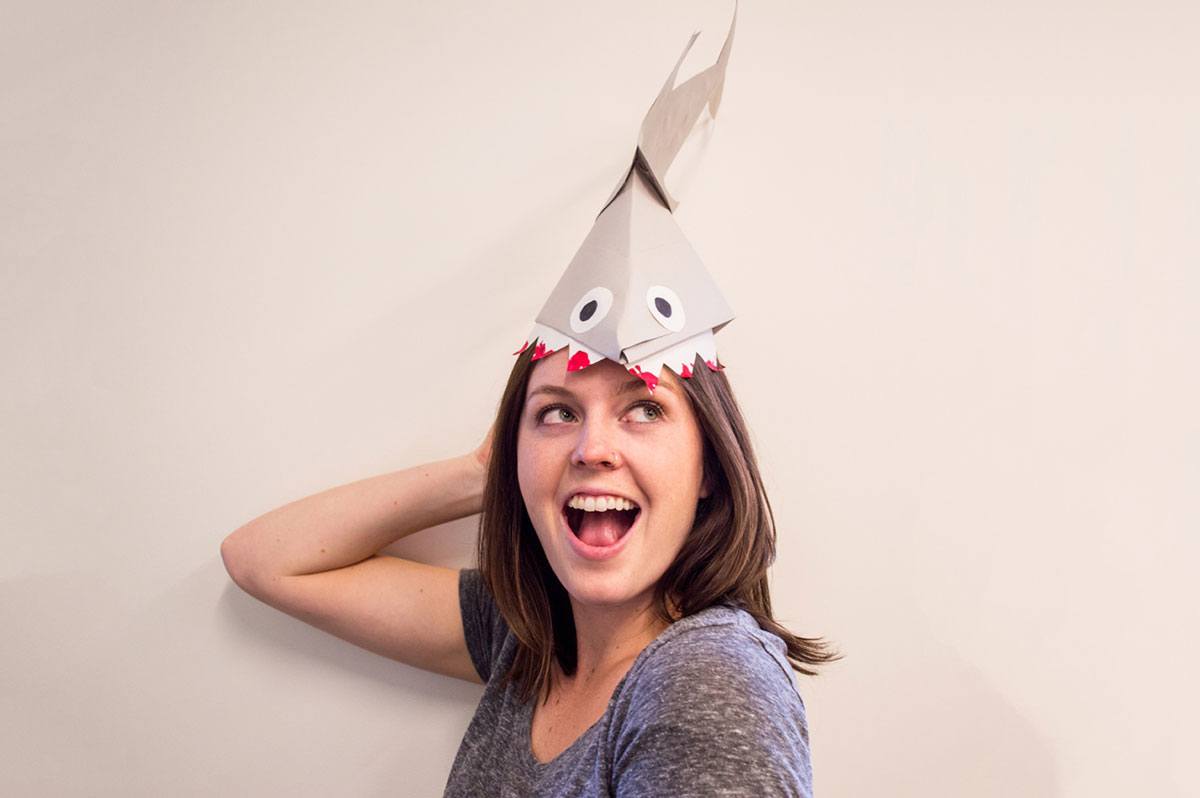 MATERIALS:

2 sheets of large gray construction paper
1 sheet of white paper
Black marker
Double-sided tape
Red glitter
Scissors

INSTRUCTIONS:
Take one sheet of gray paper and fold it in half; then, fold it in half again.
Open the paper up halfway, then fold the corners in toward the middle as though you were making a traditional sailor's hat.
Take your completed sailor's hat and fold the ends over. Then, tape the loose pieces down with double-sided tape.
Grab the second sheet of gray paper, fold it in half, and draw an outline of your favorite shark! Cut out the shark outline and boom – you have two sharks!
Making sure your two shark silhouettes match up, and then cover one shark completely with double-sided tape. Cover just the head of the second shark in double-sided tape. Tape the sharks to the top of the hat.
Take the white paper, fold it in half, and start cutting out the teeth; then, tape the teeth to the inside of the hat.
Cut out circles to make the eyes, and tape the circles to the hat. Draw in the eyes with a marker.
Use the double-sided tape on a few of the teeth, and then get crafty with red paint for blood!
Hand out one shark hat to every person at your viewing party, and you're under attack!
Hoodie: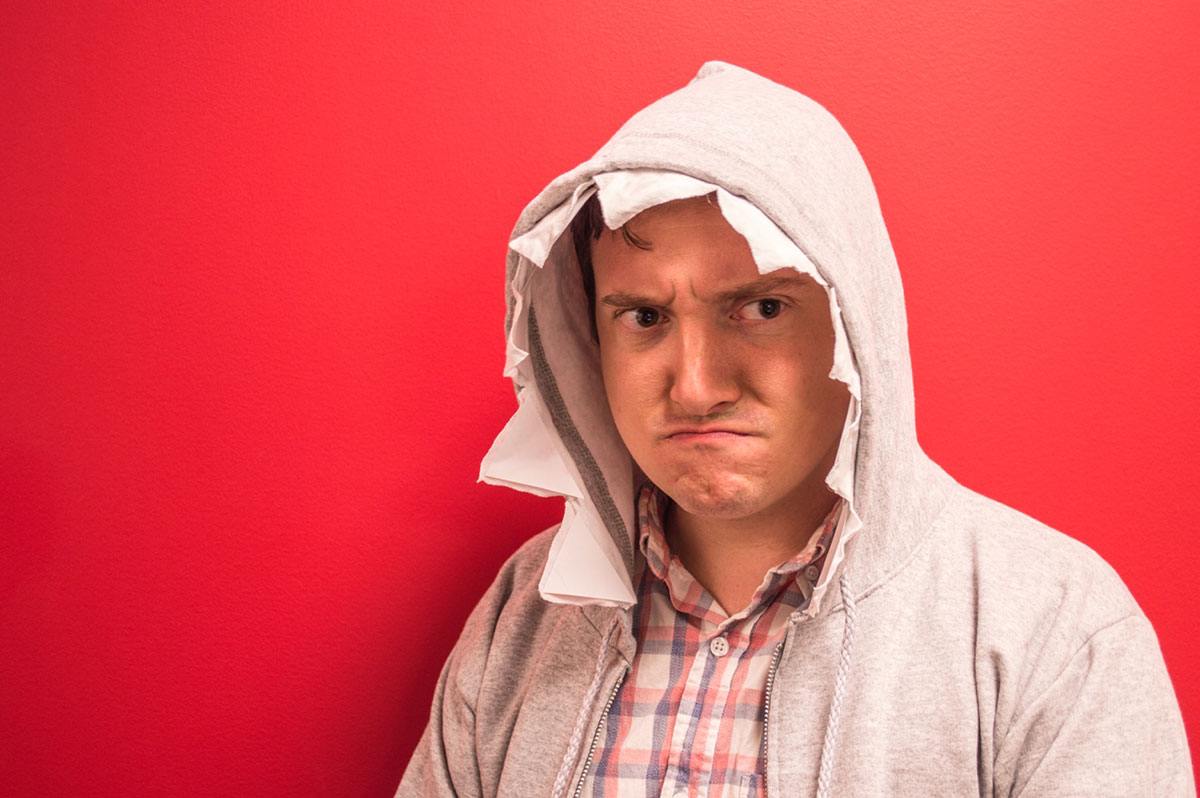 MATERIALS:

Gray hoodie

1/3 yard of white felt, for teeth

Glue gun

Scissors

INSTRUCTIONS:
Trace out a row of teeth on the white felt.
Cut the teeth out.
Hot glue the teeth into the lining of your hood.
Voila! You're a shark, dude!
Dessert to Die for: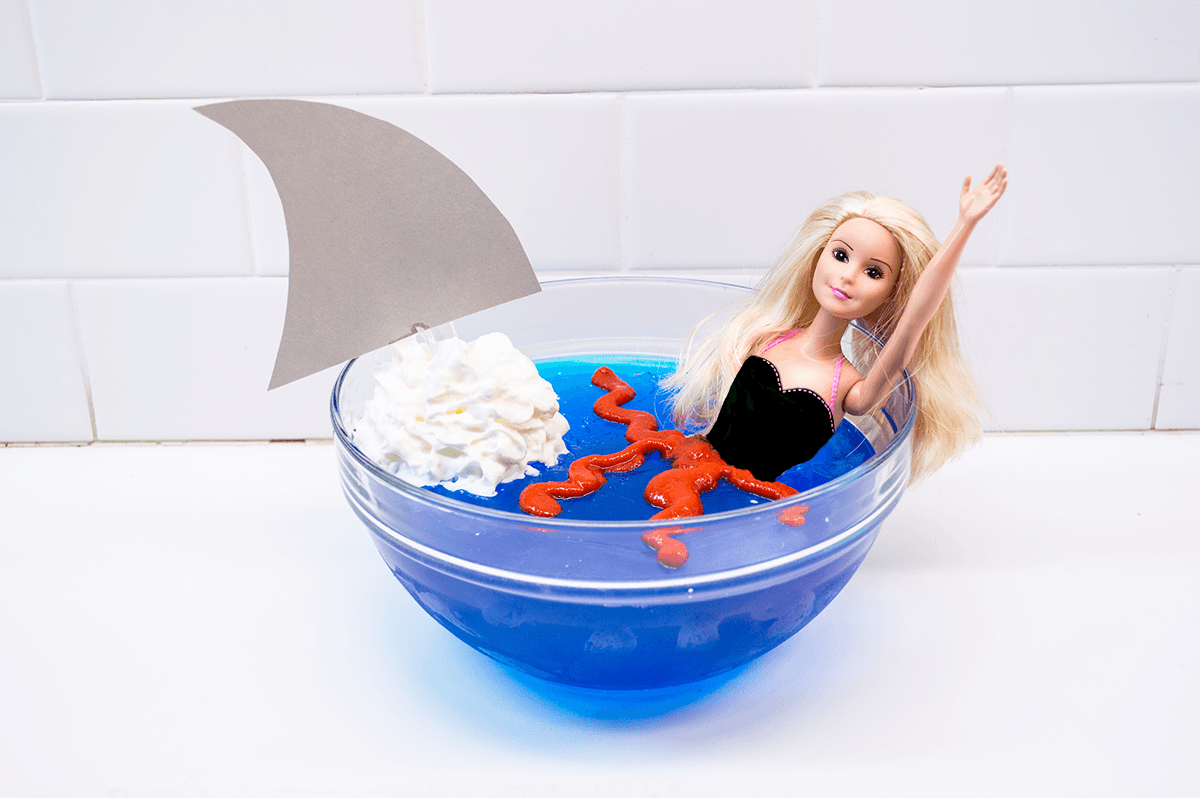 INGREDIENTS:

2 packets of blue Jell-O®

2 cups of water

1 can of whipped cream

1 can of white frosting

Red food dye

1 plastic bag

1 construction paper shark fin

1 plastic spoon

1 doll (legs removed)

DIRECTIONS:
Boil two cups of water in a large pot.
Add Jell-O® mix, stir until dissolved.
Add 2 cups of ice cold water, and then refrigerate until it sets.
In a small cup, combine white frosting with red food dye.
Place red colored frosting in a plastic bag, and then cut a small hole in the corner of one side of the bag.
Insert the doll into firm Jell-O® and apply red-colored frosting to the doll (similar to the image above).
Cut out a shark fin on grey-colored construction paper, and then tape the shark fin onto the plastic spoon.
Add a dollop of whipped cream to the Jell-O® and then insert the shark fin spoon into the whipped cream.
Serve up the concoction, and see who survives!
We hope to see you on Twitter on July 31st at 8:00 p.m. Eastern Time/7:00 p.m. Central Time, when we will be live tweeting the premiere! See you there!

© 2016 TiVo Inc. TiVo, the TiVo logo, and the TiVo silhouette logo are registered trademarks of TiVo Inc. All other company, product and brand names and trademarks are the property of their respective owners. Neither Twitter nor the Syfy channel is affiliated with TiVo, and neither Twitter nor the Syfy channel endorses TiVo products, services or activities.

Save

Save

Save

Save

Save

Save