Top Moments: March Mayhem 2016
This year's NCAA® Division I Men's Basketball Tournament was full of upsets, close games and thrilling moments. Indeed, the last few seconds of the Championship matchup between the Villanova Wildcats and the University of North Carolina Tar Heels epitomized the mayhem that ensued this March. TiVo Research comes through in the clutch to present to you the top moments from this year's NCAA Final Four® and Championship Games!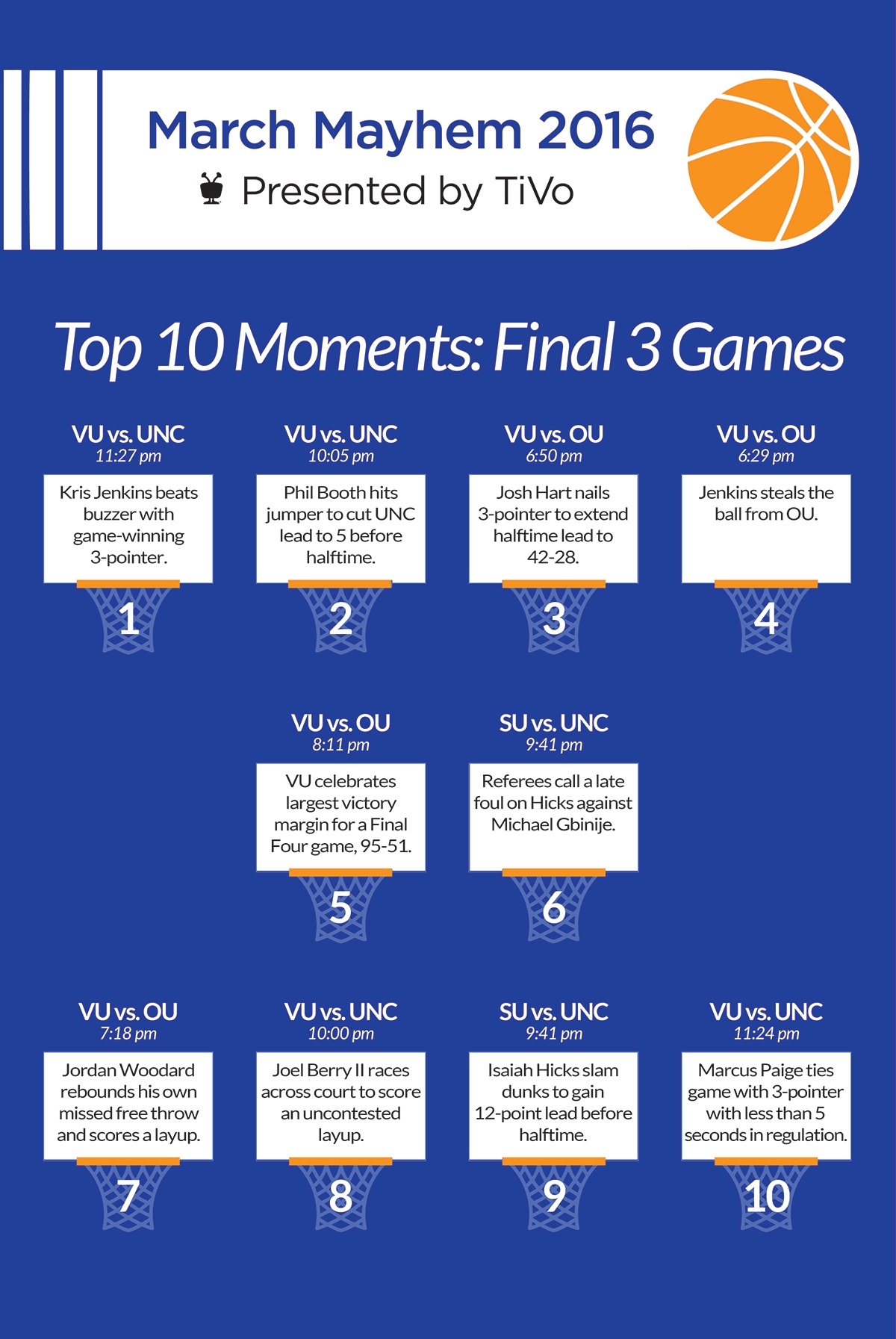 Source: TiVo Research and Analytics
Methodology: TiVo Research's 2016 Final Four and Championship Game analysis was prepared using aggregated, anonymous, second-by-second audience measurement data from approximately 30,000 anonymous households out of a daily sample of 350,000 subscribers to the Emmy® Award-winning TiVo service. TiVo Research gauges the interest in programming content by measuring the percentage of the TiVo audience watching in "play" speed. The most engaging moments are determined by looking for program content with the biggest bump in viewership relative to the surrounding 15 minutes of programming, offering a true reflection of change in viewership.
© 2016 TiVo Inc. All Rights Reserved. TiVo, the TiVo Logo, and the TiVo silhouette logo are registered trademarks of TiVo Inc. or its subsidiaries worldwide. NCAA and Final Four are registered trademarks of the National Collegiate Athletic Association ("NCAA"). The NCAA is not affiliated with TiVo and does not endorse TiVo products, services or activities. Emmy is a registered trademark of the National Academy of Television Arts and Sciences.