Top Big Game Commercials of All Time – Budweiser is Loved by All
With the Big Game coming up next month, TiVo® took a look back at the top 100 commercials aired during the game over the last 50 years to determine which the top ten were. Incorporating insights from the Research and Consulting division of Vision Critical, TiVo determined that the Budweiser "Puppy Love" commercial from 2014 ranked the highest across both men and women, as well as across age groups spanning from 18 to 64. In fact, the presence of animals or children was a common theme contributing to the success of the top ten commercial spots.  The top ten commercial spots over the last 50 years include:
Budweiser: Puppy Love
Budweiser: Lost Dog
Volkswagen Passat: The Force
Coca-Cola: Mean Joe Greene
Doritos Nacho Cheese: Sling Baby
Budweiser: 9-11
Snickers: You're Not You…
Doritos: Pug Attack
Doritos: Cowboy Kid
Budweiser: Designated Driver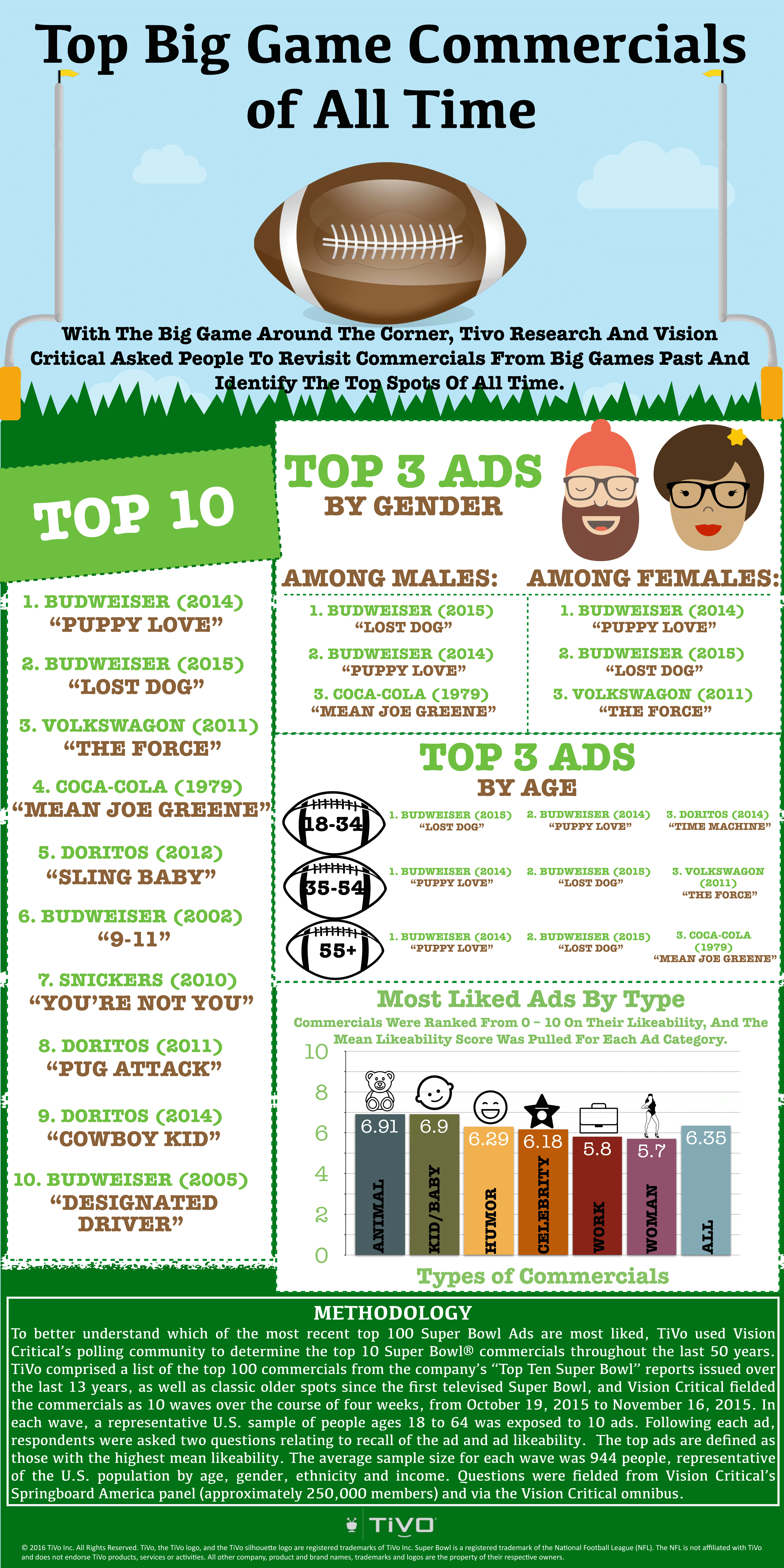 Additional Key Findings
Arguably one of the most famous ads of all time, Apple's 1984 ad, did not make it into the top ten with those polled.
The third most popular ad with females was Volkswagen's "The Force", and the third most popular ad with males was Coca-Cola's "Mean Joe Greene".
Overall, beer and snack advertisers had the most likeable of the top 100 ads, including Budweiser, Snickers, Doritos and M&Ms.
In addition to these findings, TiVo Research will pull the top moments and commercials from this year's Super Bowl® and will release this data on February 8, 2016.