TiVo Research Annual Father's Day Survey 2015: What Does Dad Want?
With Father's Day rapidly approaching this Sunday, the yearly dilemma ensues – not just getting a gift for Dad, but getting something he'll actually like and use.
Well, we might be able to provide a little help for all of you who are struggling to pick a gift this year. Depending on what your dad's tastes are, our friends at TiVo Research have surveyed fathers nationwide and found their favorite brands and items for which they just may be secretly yearning.
You never can have too many jeans, can you? The survey revealed that the favorite brand of jeans, hands down, among dads out there is – you guessed it, Levi's. So if the man of the house has some jeans that he's been wearing entirely too much, or some that he's been wearing too little, maybe it's time to freshen up his denim collection.
Is your dad rocking some facial hair that you love (or hate)? Well studies show that the top shaving cream dads love is – none of the above! The majority of dads revealed that they do not use shaving gel or cream at all. Perhaps a new electric razor could be considered to keep that goatee touched up and tidy!
Gone are the days of dads dreaming about sporty exotics with cylinders in the double digits. In fact, our survey shows the dream car of fathers nationwide says good riddance to cylinders altogether! That's right, 34 percent of dads nationwide look to Tesla as the top auto company, favored over ancient favorites such as Ferrari, Lamborghini and Rolls Royce. Your piggy banks will thank you in more ways than one for this trend!
Have a handy man around the house? In our survey, the top tool brand chosen among dads was Sears Craftsman, beating out DEWALT, Milwaukee and others. So go ahead and get a new tool set to keep your handy man working at peak efficiency!
If your dad is an athlete or sports fan, here are some interesting findings. It turns out that Nike tied  Under Armour in our survey for dads' most preferred fitness brand. Some new workout apparel might be just the thing your dad needs to keep that dad bod looking right!
And finally, for all the dads who are into gadgets and gizmos, we now know through our survey what the most desired technology item may be this year. The most wanted tech item is – a home automation system (for lights, locks and more)! It seems that most fathers out there would like to be able to sit in their chair and control the whole house with the push of a button.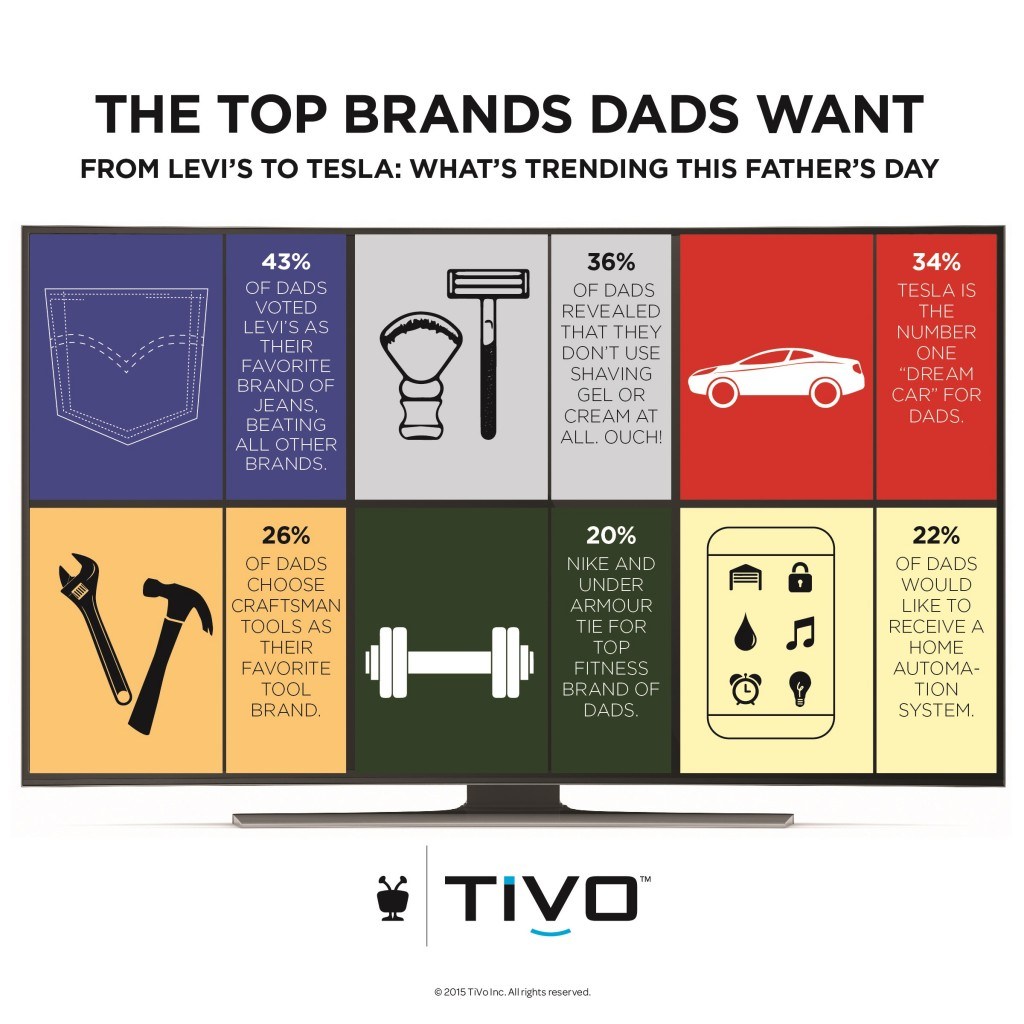 So there you have it! For all the different types of dads, there's a gift for each of them; so, choose wisely! But most importantly, let's make sure all the dads feel loved and appreciated on this day dedicated for them, since that is what really matters!
Staying in on Sunday? Check out our Father's Day collections on your TiVo device!
Father Knows Best: TV & Movies featuring everyone's favorite fake dad
Father Knows Worst: TV & Movies featuring the worst fictional dads in history
From TiVo Central, select "Find TV, Movies, & Videos", then "Browse TV & Movies." Under "New & Notable," select the "Father's Day" collection.
Survey Methodology
Respondents were part of the TiVo Advisors Panel, an opt-in panel of approximately 30,000 TiVo subscribers who are invited to monthly attitudinal surveys, allowing us unprecedented insight into behavioral habits and television viewing. The May 2015 Panel Survey is one such monthly attitudinal survey and was conducted from May 22 through June 8 of this year. Of the 12,156 respondents who participated in the May 2015 Panel survey, 6,192 men who identified themselves as dads, future dads, or "father figures" participated in the Father's Day component and were used for our survey findings.