Smartphones: Android vs. iPhone!
By: Akiko Iwamizu
TiVo collected data from an online survey that TiVo conducted in June 2014 among 2,025 individuals in the U.S. between the ages of 13 and 74. The sample of respondents was balanced in age, gender, and income to roughly mirror the demographic spread of the 2013 census figures published by the US Government.
Through this survey, TiVo was able to learn about and analyze each individual's adoption and usage of mobile technology. What TiVo found was that 80% of US residents have a smartphone, and that both Apple® and Android™ smartphone users hold tremendous loyalty toward their respective brand. In terms of demographics, the survey revealed that in comparison with Android smartphone owners, iPhone® owners have a higher average household income and are more likely to be over the age of 35.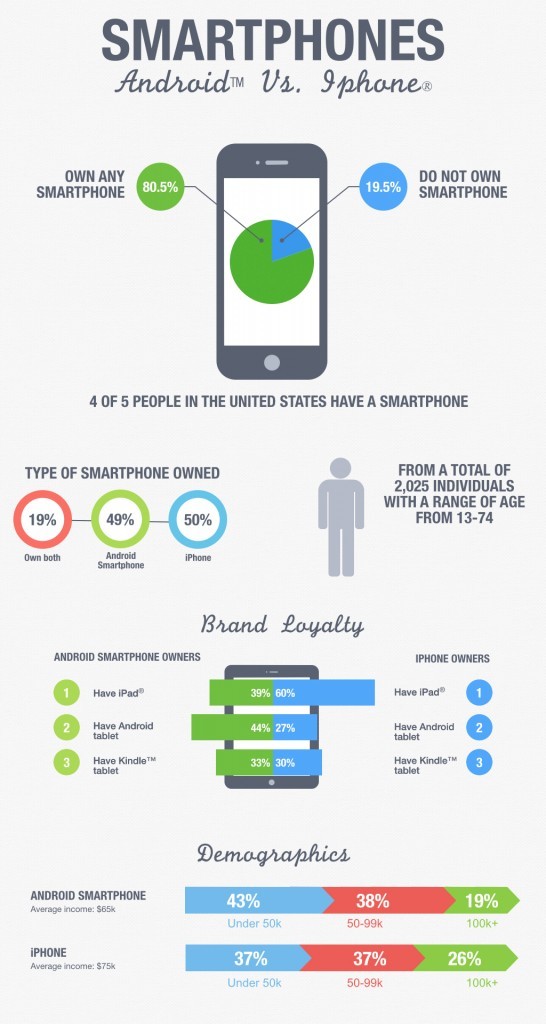 Apple, iPhone and iPad are registered trademarks of Apple Inc. Android is a trademark or registered trademark of Google Inc. Kindle is a trademark of Amazon.com, Inc. or its affiliates. Neither Apple, Google nor Amazon.com is affiliated with TiVo, participated in this survey, or endorses TiVo products and services