Fall 2014 Broadcast Commitment Chart
Fall leaves, NFL clashes, flu shots, World Series thrills, the Great Pumpkin, clocks Fall Back, sweater weather, school crossing guards, and the deluge of new broadcast television series (twenty-four in all this year.) Must be the fall season!
As the new broadcast offerings vie for viewing and promotional time on their various networks, TiVo examined which new series seem to be resonating with our subscribers. Below is a list of the top ten new fall broadcast series, based on the percentage of a representative sampling of TiVo subscribers who have set up a TiVo Season Pass® recording for each of those new series.* We will be updating this chart periodically throughout the current broadcast television season, because some new series — including NBC's State of Affairs and the CBS comedy The McCarthys — have not yet debuted.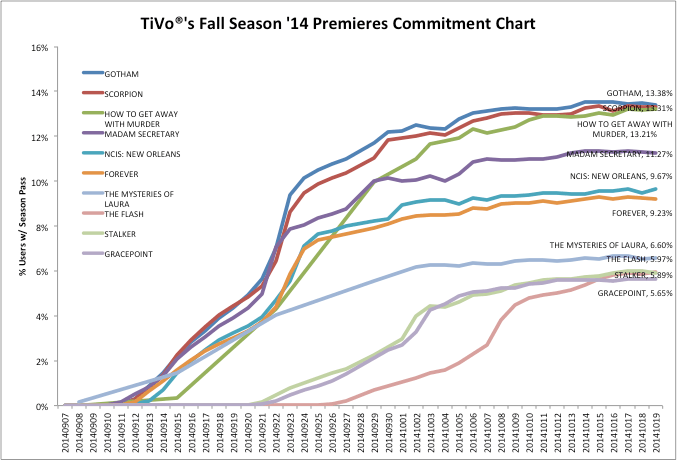 *TiVo anonymous viewing data is based on a random daily sample of 350,000 active TiVo DVR units. Amongst this sample, above chart shows the percentage of active TiVo DVR units which have set up TiVo Season Pass recordings for each listed program on a daily series of measurement dates between September 7, 2014 and October 19, 2014.
© 2014 TiVo Inc. All rights reserved. TiVo and Season Pass are registered trademarks of TiVo Inc. or its subsidiaries worldwide. All other company, product and brand names and trademarks are the property of their respective owners