Top Moments: Sharknado 2!
On the heels of the release of Sharknado 2: The Second One, TiVo has released the top moments watch by viewers. From sharks falling out of the sky to attacking airplanes in midair, this action packed film has certainly lived up to its hype!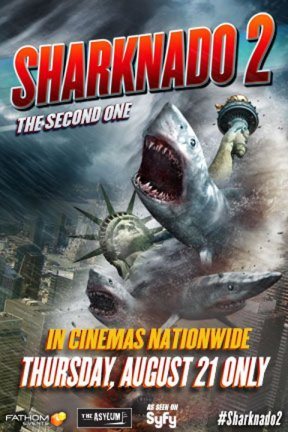 9:03pm – Flying on Santa Mira (the fictional town that was the setting for Invasion of the Body Snatchers and Halloween III) Airlines to New York, Fin glances out the window at 30,000 feet in the air and sees the visage of a shark flying along in the clouds.
9:09pm – As sharks begin to pummel the plane and its pilot, played by Robert Hays (the star of Airplane!), the pilot gets sucked out of the cockpit, and a passenger played by the uncredited Wil Wheaton gets eaten by a shark flying down the aisle.
9:45pm – Fin's sister, Ellen Brody (the name of Roy Scheider's wife in Jaws), disarms a shark with a stun gun as it attacks her friend while Ellen and the friend are riding on the ferry in New York harbor.
9:58pm – A man holding a sign that reads "The end is near" is proven correct, as a flying shark eats him.
10:57pm – With sharks falling from the sky, New York residents grab any weapon they can find and begin to attack the sharks. Fin himself uses his chainsaw in midair to annihilate sharks, and when he once again is swallowed whole, he saws his way through the shark.