TRA Wishes You a Happy National Coffee Day!
Happy National Coffee Day; have another cup on us.  And while you are drinking that cup odds are you are tuned to CBS or Fox News Channel!  Based on a recent study of TiVo Research and Analytics data, heavy coffee purchasers tend to watch a disproportionate amount of those two networks in primetime.
Specifically java aficionados are tuned to Elementary, 60 Minutes and Big Brother on the eye network.  Other broadcast fare includes Grimm (hopefully its decaf!), The Middle and Family Guy.  On the cable front, along with their cup of joe, coffee lovers enjoy Hannity, Fox Report and On the Record With Greta Van Susteren on Fox News as well as Alien Mysteries (The Science Channel), Golf Central (Golf Channel) and It's Always Sunny in Philadelphia (Comedy Central).  See below for the top ten primetime broadcast and cable list.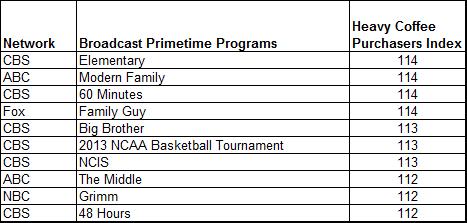 Source: Data are from TRA's Media TRAnalytics® and are based on the 2nd quarter of 2013. Viewership indices are calculated for the Heavy Coffee Purchaser segment rating for a given program versus the overall program rating.
©2013 TiVo Research Analytics, Inc. All rights reserved. Media TRAnalytics is a registered trademark of TiVo Research and Analytics, Inc., All other trademarks are the property of their respective owners.