The Bachelorette is heating up – Top five Moments and Auto Ownership
TiVo Research and Analytics (TRA) documents the top 5 moments watched of Season 9, Episode 3 of the Bachelorette and reports on the automobiles owned by fans of the show.
The ninth season of The Bachelorette features a familiar face from the The Bachelor season 17; Desiree Hartsock. She was reluctantly sent home by Sean Lowe in that season, but is now back and better than ever hoping to find true love with 25 eligible bachelors.
Desiree eliminated nine potential suitors during the first two episodes creating a sense of urgency with the remaining bachelors. Eager to get their alone time with Des, the men lay their hearts on the line (and a few body parts) with hopes to receive the coveted rose which saves the bachelors from elimination each episode.
In Episode 3 of The Bachelorette TiVo Research and Analytics observed the top 5 most watched by TiVo households – and they did not disappoint. In rank order, here are the top five most watched moments of the show according to time-shifted data:
00:55:00 Brandon reveals issues from his past that transpired into an emotional breakdown. Brandon discloses his issues of abandonment that were spawned from multiple, short-term father-figures that came in and out of his life as a child.
00:14:00 The competition heats up quickly for Desiree's heart with an intense game of dodgeball. In the final game, bachelor Brooks collides with his opponent and breaks a finger but finds comfort under the care of Desiree.
00:37:00 Desiree gets some troubling news when she finds out bachelor Brian has been less than truthful with her and visits the bachelors' pad to confront him.
00:43:00 Bachelor Brian gets a big surprise when his girlfriend Stephanie shows up at the house. After telling Desiree about her relationship with Brian, Stephanie reveals that he has acted like a father-figure to her young son Donovan.
1:56:00 Desiree only has one rose left and it's down to Dan, Ben, and Brandon. After having a one-on-one in the car earlier, Desiree hands her last rose to…Ben.
Upon further investigation of The Bachelorette and their viewers, TRA discovered interesting data regarding their automobile ownership. ABC'S The Bachelorette indexes high among households that have premium and upscale luxury brands of CUV and SUV's. More specifically, the most popular carmakers are Lexus, BMW, Hummer and Audi.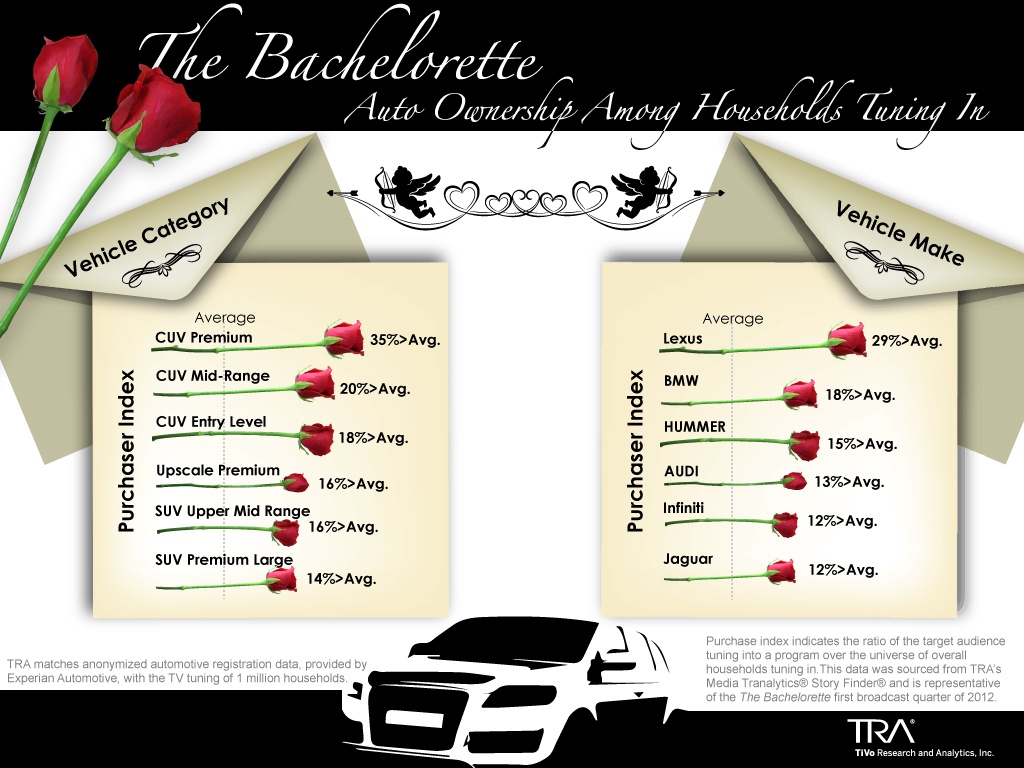 If you'd like to take a deeper dive into the types of audiences that are tuning in to The Bachelorette or any other program, contact us info@traglobal.com.
This blog post was originally published at the TiVo Research & Analytics blog.