Painting the Picture of Late Night TV using Automotive Ownership Data
Do you own a hummer, hybrid or a mid-size sedan? Do you watch Leno, Letterman, Kimmel or Fallon? TiVo Research and Analytics has discovered a correlation between what people drive and the late night shows they watch.
TRA observed what TV Late night shows were being watched by hundreds of thousands of car owners in the fourth broadcast quarter of 2012. We found a vast difference in those who watch the traditional late night programs, Leno and Letterman, and those who watch Jimmy Fallon. We also looked into the cable-based late night programs The Daily Show and Colbert Report to add some extra flavor to the story. Needless to say, the results were thought-provoking to see in this light.
Jay Leno, known as a major car buff himself, indexes high for households that own the American favorites; Buick, Cadillac, Lincoln and Mercury. Letterman the same. Newcomer, Jimmy Kimmel is attracting a similar audience to Leno and Letterman, but surprisingly indexes high among Hummer owners – albeit a General Motors brand.
Jimmy Fallon's nuanced approach to the late night has developed a different audience of car owner.  Fallon indexes extremely high for alternative fuel car owners (hybrid and electric) as well as Mini and Lexus owners. A similar audience of car owners is watching the Daily Show and Colbert Report, but their indices among alternative fuel owners are off the charts.
For auto advertisers, this data is valuable, especially with the ongoing shake-up in the late night line-up.  How are you planning to adjust to reach your target audience?
You can dive into the details by clicking on the image displayed below.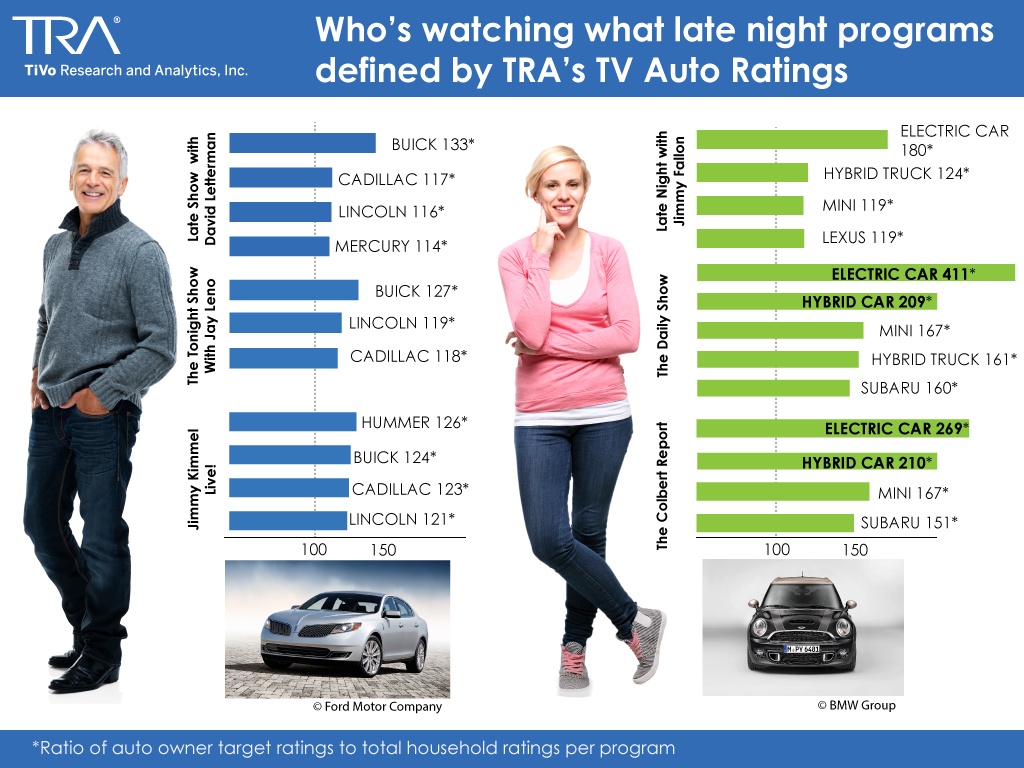 TRA's TV Auto Ratings provides advertisers and networks with data about the type of automobile purchases made by viewers of various TV programs. Visit www.traglobal.com to learn more.
This blog post was originally published at the TiVo Research & Analytics blog.