It's time to get slimed at the 2013 Nickelodeon Kids' Choice Awards!
It's all about the kids this weekend! Josh Duhamel hosts the 26th Annual Kids' Choice Awards in which children vote for their favorites from music, film, television and sports. Some top nominees across the categories are Jennifer Lawrence, Adele,  Robert Downey Jr.,  Maroon 5, Michael Phelps, Justin Bieber, Anne Hathaway, One Direction, Taylor Swift, Venus and Serena Williams, iCarly, The Avengers, The Hunger Games, "Call Me Maybe" and "Gangnam Style."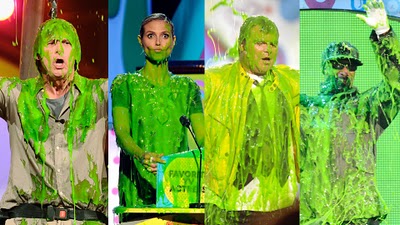 Celebrities including Sandra Bullock, Steve Carrel, Neil Patrick Harris, Kristen Wiig, Chris Pine, Jaden Smith, Lucy Hale, Kaley Cuoco, Miranda Cosgrove, Cory Monteith, Jennette McCurdy and athletes Dwight Howard and Gaby Douglas will present at the March 23 ceremony. Also marking appearances on the orange carpet are Amanda Seyfried, Josh Hutcherson, Megan Fox, Nick Cannon, Darren Criss and Duhamel's wife, singer Fergie. There will be musical performances by Ke$ha and Pitbull featuring Christina Aguilera.
So far more than 326 million votes have been cast worldwide. There is still time to vote for your favorite nominees before you tune in tonight at 8PM on Nickelodeon.