TV This Week … really just a countdown to this year's Oscars!
Countdown to the 2013 Academy Awards with these shows!
MONDAY – The Bachelor – ABC– 8PM
Ready to meet the parents? This week on "The Bachelor" Sean will be going on hometown visits with the lucky ladies still left standing. We're looking forward to the new drama that will unfold now that Tierra is gone (sparkle and all)!
TUESDAY – New Girl – Fox – 9PM
New Girl has been stringing along the idea that Nick and Jess are meant to be since the show began. Two episodes ago a kiss finally went down. Last episode Jess got dumped by Dr. Sam… leaving her free to date Nick? This might be the episode where we finally find out if Nick and Jess will get together! Or they'll stretch it out another 15 episodes. It's a fun show either way!
WEDNESDAY – Top Chef – BRAVO – 10PM
Don't miss the Season Finale of Top Chef Seattle (part 1, of course), this time they're in beautiful Alaska and the b-roll alone makes this episode worth watching. Aside from the scenery, we've seen some fierce competition in the kitchen and relatively low-drama among the chef-testants, which makes for nice viewing. Sheldon and Brooke are the two definites in the finale, but there's one more chef coming from Last Chance Kitchen who will be revealed to compete this episode!
Thursday – American Idol – Fox – 8PM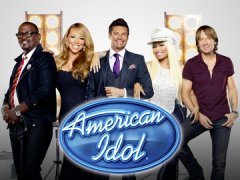 If you haven't tuned in to American Idol this season, now's the time. This week kicks off with Part 1 of the Semifinalists Round. Don't miss the top ten female finalists perform in Las Vegas!