Top Chef Seattle and other cooking competitions bring the heat from the kitchen to your TV
Whether you're a master in the kitchen or an expert at ordering takeout, there's something for everyone in the world of reality cooking competitions. Here's a taste of the most delectable shows out there: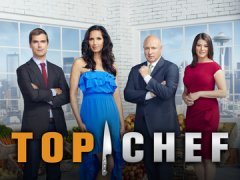 Top Chef: Seattle – Bravo – Wednesdays at 9 PM
Top Chef headed to Seattle for it's 10th season with judges Tom Colicchio, Hugh Acheson, Gail Simmons, Emeril Lagasse, Padma Lakshmi and new addition Wolfgang Puck . Chefs competed in two challenges during each episode. These included a Quickfire round in which their basic skills were tested and an elimination challenge that required creativity. At the end of each episode, one or sometimes more chefs were eliminated and asked to "pack up their knives." After 16 episodes of competition, two chefs remain. The last chef standing on tonight's season finale will win $125,000, a feature in Food & Wine magazine and the title of Top Chef.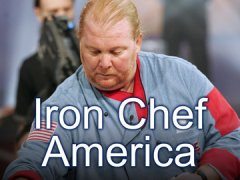 Iron Chef America – Food Network – Sundays at 11PM
Resident chefs battle outside challengers in this show based on the popular Japanese series Iron Chef. The chefs compete to create the best dishes that incorporate a secret ingredient revealed by host Alton Brown at the beginning of each episode. Resident chefs include Bobby Flay, Mario Batali, Masaharu Morimoto, Cat Cora, Jose Garces, Michael Symon, Marc Forgione and Geoffrey Zakarian.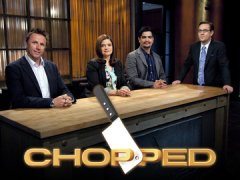 Chopped – Food Network – Tuesdays at 10 PM
In each episode, four chefs compete to prepare a three-course meal using an unlikely combination of mystery ingredients. After each round judges "chop" the chef who doesn't measure up. This competition is all about culinary skill, taste, presentation and creativity. Winners gets $10,000 and unlimited bragging rights.
Also worth checking out: Rachael vs. Guy Celebrity Cook-Off, Throwdown With Bobby Flay, Dinner Impossible and Restaurant Impossible.