Viva Las TiVo: Follow The TiVo Guy As He Takes On Vegas
"Where's TiVo?" This week you'll find the TiVo Guy hitting the strip! Whether you're a local, visitor or CES attendee, look out for him as he explores the best of Las Vegas from January 8th-January 10th.
What happens in Vegas doesn't have to stay in Vegas! Fans at home can track his journey through photos and videos by visiting the TiVo Facebook page, following the hashtag #whereisTiVo on Twitter and Instagram and checking the Official TiVo Blog.
Spot the TiVo Guy and his TiVo friends at the following locations: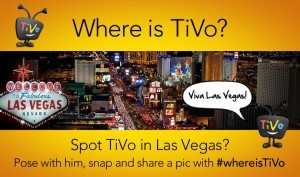 Tuesday January 8, 2013
Wednesday January 9, 2013
Thursday January 10, 2013