CES, A Place for Partners
This year at CES, TV sets were hot again, but getting the best content to the screens is really what TiVo does best. CES is always a whirlwind of activities but despite the fast-paced nature of one of the worlds largest consumer technology trade-shows, we were able to take a break, kick back and spend some quality time with our valued operator partners. We had the opportunity to host over 100 industry executives for drinks and hors d'oeuvre at our booth and even had a chance to toss a football around and pose for pictures with TiVo's newly-minted brand ambassador NFL quarterback Tim Tebow.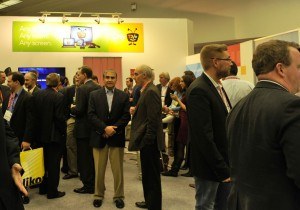 We were thrilled with the turnout and the opportunity to talk a little shop with our partners – TiVo has a rapidly growing family of partners including relationships with 9 of the top 21 operators in the U.S. – chat about the innovative work TiVo is doing to help define the future of television, and just relax for a few moments. Thanks again to all our operator partners and both our longstanding and new TiVo fans and friends for stopping by to say hello.