We're Thankful For Holiday-Themed TV Episodes
Check Out New Thanksgiving Specials This Week: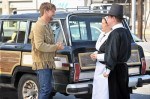 TUESDAY – Happy Endings – ABC – 9:00PM
Dave and Alex have the gang over for Thanksgiving at their new place, and Dave decides to share his heritage by giving his friends an authentic Navajo Thanksgiving. Max discovers a lost copy of "The Real World" that he and Brad were on, leading the group to reminisce about how they all met.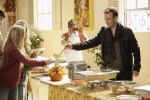 TUESDAY – Don't Trust the B—- in Apartment 23 – ABC – 9:30PM
June can't afford the flight home to Indiana, so Chloe invites her to her parents' house for Thanksgiving. Meanwhile, James' attempt to get a photo op at a soup kitchen doesn't go as planned.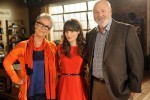 TUESDAY – New Girl – FOX – 9:00PM
After her divorced parents, played by guest stars Jamie Lee Curtis and Rob Reinerboth, arrive for Thanksgiving dinner, Jess unsuccessfully tries to get them to reconcile despite the help of Nick and Cece. Schmidt and his bigger ex-Marine cousin, Big Schmidt, played by guest star Rob Riggle, celebrate the holiday by competing to prove their manhood.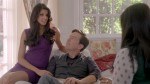 TUESDAY – The Mindy Project – FOX – 9:30PM
Mindy is cooking Thanksgiving dinner at Gwen's house until she is disrupted by the arrival of a former blind date and his new girlfriend played by guest stars Ed Helms and Richa Shukla. Betsy and Jeremy visit Betsy's family, while Danny spends the holiday alone in the office.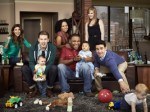 WEDNESDAY – Guys With Kids – NBC – 8:30PM
Chris and Sheila decide to celebrate Thanksgiving together after they have trouble deciding who gets Ernie for the holidays. Gary spends the holiday waiting in line to buy a TV.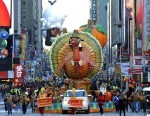 THURSDAY – Macy's Thanksgiving Day Parade – NBC – 9:00AM
The 86th Macy's Day Parade will kick off early Thursday at 77th and Central Park West and head downtown until it reaches Macy's at Herald Square. Newcomers Papa Smurf and Elf on the Shelf will join Kermit the Frog, Hello Kitty, Spider-Man and Spongebob Squarepants this year along with more balloons, floats and performances. Be one of the 50 million people who tune in to the Emmy-Award winning annual spectacle.