Introducing the TiVo Stream!
We're excited to announce the new TiVo Stream! You can watch your favorite recorded shows on your iPad, iPhone or iPod Touch. The TiVo Stream works two ways – stream recorded shows anywhere in your home, or load up your shows to take with you on the go!
 "Finally, consumers can have the flexibility they have long demanded by enjoying their favorite entertainment content anywhere – be it at home, in the air, or on-the-road," said Jim Denney, GM and VP of Product Marketing for TiVo Inc. "With the launch of TiVo Stream, we are ushering in a new era of flexibility, empowering our users to watch their recorded entertainment regardless of location. The ability to quickly and easily stream content to second screens like smartphones and tablets via the TiVo app helps TiVo users get even more from their TV-watching experience."
 Wondering how the stream works? The TiVo Stream allows you to watch your shows on the go two ways. One option allows you to download recordings from your TiVo Premiere DVR for viewing later outside of the home, using your TiVo app. It takes as little as 15 minutes to download an episode of your favorite show! You'll be able to enjoy whatever you download whenever and wherever you like – without internet! Don't want to waste your storage space on your devices? Option two has you covered – use the TiVo Stream to instantly watch any of your recorded content by connecting your iPad, iPod touch, or iPhone to the same wireless network as your TiVo Stream. You'll be able to do this in your home without interrupting normal television viewing.
So, make your dreams come true! Soak in the tub while eating bon bons and watching Don Draper work his magic.
Okay, those are our dreams…where will the TiVo Stream take you?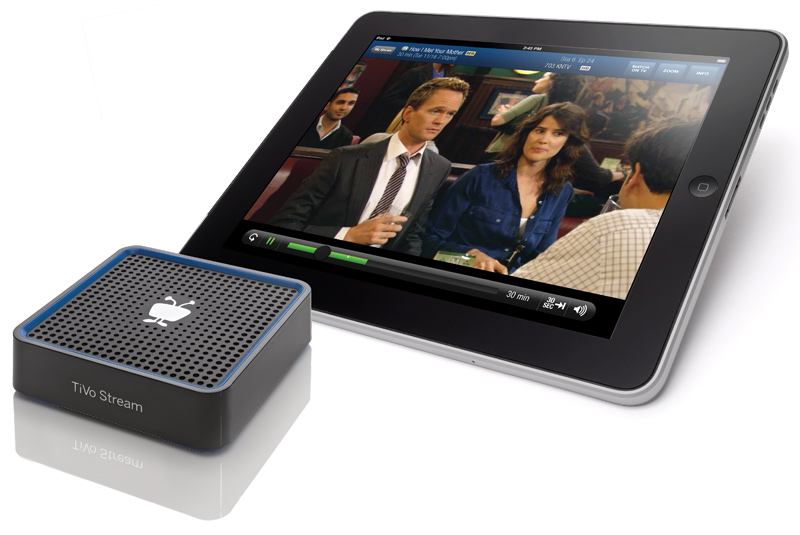 TiVo Stream Specifications and Requirements:
Compatible TiVo products:
TiVo Premiere
TiVo Premiere XL
TiVo Premiere 4
TiVo Premiere XL4 (previously Premiere Elite)
Inputs: Gigabit Ethernet, 12v DC power
Dimensions: 4" x 4" x 1.05"
Weight: 0.3 pounds
Requires wired connection between TiVo DVR and wireless router (Ethernet or MoCA)
Requires one or more iPad, iPhone or iPod Touch devices running iOS5.1 or later
Requires free TiVo App for iPad, iPhone or other supported device
The TiVo Stream incorporates TiVoGuard for Mobile, a CableLabs-approved content protection technology
The TiVo Stream is now available through tivo.com and coming soon to most Best Buy and Magnolia Home Theater stores, with an MSRP of $129.99. For more information on the product, please visit www.tivo.com/stream.