Watch Shows from Revision3 and other Sites on Your TiVo!
Did you know that there are hundreds of free web videos offered through your broadband-connected TiVo DVR? Through TiVoCast you can browse through them all, or search for one by specific category or by typing in a keyword.
Revision3, a Discovery Communications company, is one of the many sites you can access via TiVoCast. It is the television network for the Internet generation. Whether you're into technology, how-to guides, video games, movies, entertainment, news, or even just the random stuff from the Internet, you can see it all on Revision3. From tech shows like Tekzilla and AppJudgment , to news and entertainment on The Philip DeFranco Show  and Film Riot  – we're sure you'll find a favorite!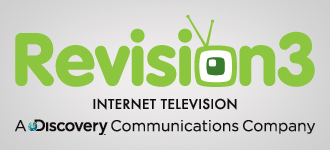 Search through the Web Videos area and visit the Technology, How-To, Games & Hobbies and Lifestyle categories at tivo.com or on your TiVo box itself, so that you can stay plugged in!
Sarah Vogel is Content Program Manager for TiVo Inc.