And the Emmy [Nomination] Goes to…
The nominations are in! Jimmy Kimmel and Kerry Washington announced the 2012 Primetime Emmy Award Nominees live from the Academy of Television Arts & Sciences in North Hollywood, CA, this morning, kicking off the race to the 64th Annual Primetime Emmy Awards in September.
HBO once again led the pack with 81 total nominations, followed by CBS (60 nominations) and PBS (58 nominations). This year's list of nominees included newcomers and critical favorites, such as HBO's GIRLS and Veep and Showtime's Homeland, and saw Downton Abbey move from the miniseries category (which it won last year) into the drama category for PBS. But to allow these new contenders room for a nomination, some old favorites had to step aside. TiVo viewers, how do you think your favorites stack up with this year's nominees?
Of the Top 10 TiVo Season Pass shows, only two – Modern Family (#1*) & The Big Bang Theory (#2) – earned nominations, both in the "Outstanding Comedy Series" category, with 30 Rock (#24) rounding out TiVo's top 25 and the 'Comedy Series' category. But TiVo users sure know how to pick 'em – Modern Family also led the comedy series nomination count with 14 total nods.
In the "Outstanding Drama Series" category, cable television dominated this year, completely shutting out network/non-cable shows. Of the nominees, AMC's Mad Men – tying American Horror Story for the most overall nominations with 17 – is the reigning champion, having won the Best Drama Emmy for each of its eligible four seasons to date. According to TiVo viewers, Mad Men (#32) is the preferred drama and may go home with its fifth consecutive Emmy. At #70, HBO's Game of Thrones is the next most-recorded nominated drama for TiVo users with AMC's Breaking Bad creeping up from behind at #95 (jumping 17 spots from #112 last week).
Fans might be missing the Emmy love for series like Glee, The Good Wife or House (in its final season), but perhaps one of the biggest snubs for TiVo viewers was in the "Outstanding Reality-Competition Program" category. FOX's American Idol (#4), was seemingly edged out by NBC's The Voice (#43), earning a nomination after its much buzzed-about second season. But, Idol's Ryan Seacrest did hang onto his hosting nod and will go up against Phil Keoghan (The Amazing Race), Tom Bergeron (Dancing with the Stars), Cat Deeley (So You Think You Can Dance) and Betty White, who will be looking to take home her sixth Emmy statue as host of NBC's senior citizen prank show Betty White's Off Their Rockers.
Click here for a full list of the 2012 Primetime Emmy Award Nominees and don't forget to set your TiVo to see Jimmy Kimmel host, September 23, 2012, on ABC.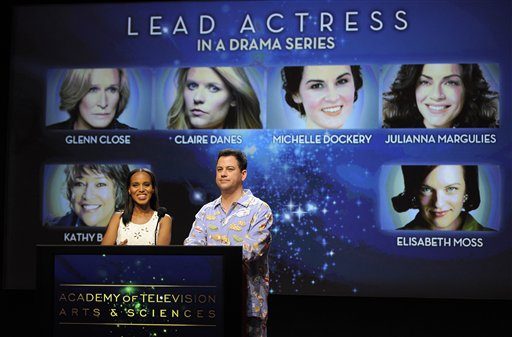 *All TiVo data contained in this post is pulled from the TiVo Season Pass rankings, accessed July 18, 2012.