Happy Blue Moon! TiVo celebrates its birthday (a little early)
Happy almost birthday, TiVo! On March 31st, 1999, TiVo shipped its first DVR, and to this day we celebrate the accomplishment with our "Blue Moon Holiday." So what does a "blue moon" have to do with TiVo? Read on to learn more.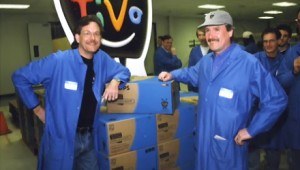 How it all began
The idea for TiVo began to take shape in the late nineties. Mike Ramsay and Jim Barton were working together on the Full-Service Network Project in Orlando, a joint venture between Time-Warner and SGI, to create the first large-scale interactive television system.
It didn't take the two long to realize that they could build the same type of system, with far greater intelligence at a price the average consumer could afford. They planned to build an easy-to-use system that would quite simply, give viewers control over their television programming and their time. This idea was the genesis of TiVo.
Transforming the idea into reality
Mike and Jim quickly assembled a world-class team to deliver on the promise of TiVo  –  blending the best of Hollywood, Madison Avenue and Silicon Valley together to create the world's first personal television service and bring TiVo to the masses. In January 1999, the company unveiled its Personal Television Service at the International Consumers Electronics Show.
Blue Moon
After unveiling the first working prototype of the TiVo at the Consumer Electronics Show in January 1999 – and despite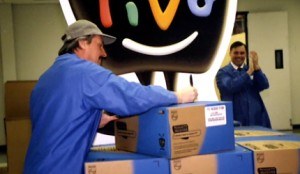 an estimated four to five months of work remaining to complete a real working product – TiVo's co-founder Mike Ramsay challenged the company to ship a perfect TiVo digital video recorder(the first DVR on the planet!) by March 31, 1999.
After everyone gasped, someone pointed out that March included a "blue moon" – in this case, the second full moon in a month, and of course, metaphorically speaking, "a rare event." As such, the engineers decided to code-name this valiant effort "Blue Moon."
Sure enough, just as the last week of March rolled around, so did the first TiVo box, right off the assembly line. TiVo declared March 31st a "national" holiday and the last Friday in March to be the official "Blue Moon" holiday for all TiVo employees henceforth. The rest, as they say, is TV – and history worth repeating over and over again.
Milestones
Aug 1997 Company founded as Teleworld Inc.
June 1998 TiVo Logo is created
Jan 1999 Introduced at CES
Mar 1999 First TiVo DVR shipped
Sep 1999 Traded publicly on the  NASDAQ (Ticker: TIVO)
Dec 2001 First TiVo Series2 DVR shipped
July 2006 TiVo service wins a Primetime Emmy award
Sep 2006 First TiVo Series3 HD DVR shipped
Jan 2008 First Comcast DVR with TiVo service shipped
Mar 2010 First TiVo Series4 DVR shipped
Jan 2011 – TiVo releases first companion for iPad
Jan 2011 – TiVo deploys Virgin Media set-top box in UK
Nov 2011 – TiVo launches in Spain with ONO
Feb 2012 – TiVo nationwide launch of a TiVo HD DVR from DIRECTV
Don't forget to wish TiVo a happy birthday on Twitter or Facebook!