Meryl Streep, Octavia Spencer in TiVo's Top Most-Watched Oscar Moments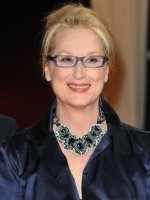 We never thought that Meryl Streep winning an Oscar would be an upset, but…well, it was! Streep ended her 29 year streak of not winning an Oscar last night, beating out The Help's heavily-favored Viola Davis. It was one of the only real surprises in a telecast that heaped large, expected amounts of praise on The Artist, acknowledged The Help's Octavia Spencer, and made Christopher Plummer the oldest Oscar winner ever at age 84. And what did you think of Billy Crystal? The comedian's ninth time hosting drew mostly mixed reviews, and even some controversy! Who knew?
The three-hour (and 10 minutes, to be precise) ceremony was packed with plenty of fun/unexpected moments. Bridesmaids! Cirque du Soleil!  Angelina Jolie's thigh! But all Oscar moments are not created equal. According to our second-by-second data, here are TiVo's Top Five Most Watched (and Re-Watched) Moments from the 2012 Academy Awards. Drumroll please….
1) Cameron Diaz and Jennifer Lopez present the award for Best Costume Design and Makeup, along with a possible wardrobe malfunction.
2) Robert Downey Jr. and Gwyneth Paltrow present the award for Best Documentary while Downey's crew films for his documentary "The Presenter."
3) Meryl Streep wins Best Actress, mocks herself, then makes everyone cry.
4) Octavia Spencer receives the award for Best Actress in a Supporting Role, makes everyone cry.
5) Tom Cruise announces The Artist as Best Picture, leaving everyone to wonder – "how he has he not aged since Top Gun?"
What were your favorite moments from last night's ceremony? Did your favorites win, or were you left feeling defeated? Did you see that Dean Pelton from Community now has an Oscar?
*This information was prepared using aggregated, anonymous, second-by-second audience measurement data analyzinghow TiVo subscribers watched the February 26 Academy Awards in a live and time-shifted mode. TiVo's audience measurement analysis is based on anonymous, aggregated data from a sample of approximately 375,000 households with the Emmy-award winning TiVo® service.