TiVo® App for Android Phones: It's here!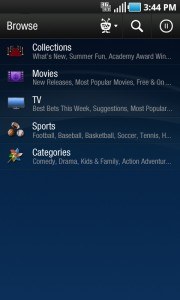 The much anticipated TiVo App for Android Phones is officially here! Now you can search, browse, explore and share comments about your favorite TV show or movie without interrupting what you're already watching on your TiVo® DVR. If that's not enough you'll also be able to schedule your programs on the go and have the ability to use your phone as a remote. The TiVo App for Android Phones is now available.
Features of the App Include:
Guest Mode – If you don't already have a TiVo DVR, you can still get the TiVo service experience through the new Guest Mode. Users can browse, search and scroll through program and channel guides and experience the simplicity of the TiVo interface.
Gesture-based controls – Now you can take complete control of all recordings, even move forward and backward though a show with a simple tap or swipe.
Program Guide – Browse your full-screen TV program guide without interrupting TV viewing.
Schedule – Schedule one-time recordings and Season Pass® recordings from the device at home or on-the-go.
Get more from your shows and movies – Explore cast and crew and other recommendations of your favorite shows without interrupting the big screen.
Search – Search for all of your favorite TV shows, movies, actors or directors across both broadcast and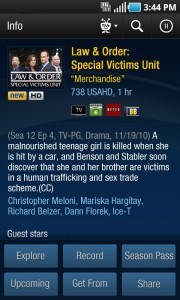 broadband from Netflix, Hulu Plus, Amazon Instant Video and more.
Share on Facebook and Twitter – From within the TiVo App, share and comment on what you're watching.
The TiVo App for Android Phones supports all high definition TiVo DVRs, including the TiVo Premiere, Premiere XL, Series 3™, HD and HD XL DVRs*. A valid TiVo user account is required for full functionality.
For more information, please visit www.tivo.com/android.
*TiVo Series3™, HD and HD XL DVR users will enjoy the app's guide, scheduling, remote control, search and explore features, but these users should anticipate a smaller set of features and capabilities than TiVo Premiere users. The current app version generally supports Android devices running OS 2.1 and above, and only on Android tablets that are 7" and smaller.
Evan Young is Sr. Director of Product Management for TiVo Inc. You can follow him @evan_young.