Glee Spin-Off is Axed But Lea Michele, Chris Colfer Naya Rivera & Cory Monteith All Returning for Season 4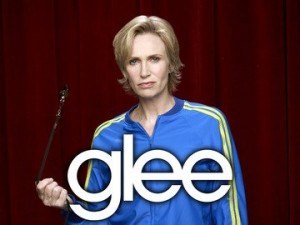 Ryan Murphy is just full of surprises. On the heels of a season finale shocker from his other, decidedly darker-than-Glee hit American Horror Story, Murphy is being quite mysterious about the upcoming season of Glee. What we do know, is that while there have been rumors of spin-offs and cast exits, Lea Michele, Chris Colfer, and Cory Monteith will in fact be back for another season, post-grad. What we don't know, is what that show will look like.
Lea Michele told the Hollywood Reporter that Murphy has come up with a "brilliant, ground-breaking idea" on how to keep the graduating seniors within the arc of the main show, no spin-off. The words "show within a show" have been thrown around, Colfer called the idea "revolutionary," and everyone seems to be super excited. Now, granted, the people calling this idea revolutionary are the actors who still have jobs because of it, but this is Ryan Murphy we're talking about, so let's just say…we're intrigued.
Glee is way up there at number 6 on TiVo's Most-Recorded list. And while the ratings for the maturing series have been sagging this season, losing almost a quarter of its audience, Season Passes for TiVo users have remained strong. Do we attract Gleeks? Or do you think viewer habits will catch up with the ratings? Our bet is people will stay strong. Gleek or not, you've got to hand it to Murphy. The man went from the oft-disturbing Nip/Tuck to the songs of Glee, with a show about a "murder house" on the side. So while you may have stopped believing, chances are, you want to see what the man is going to do next.
Are you one of those people who can't get enough Glee? Or does it make long for the twisted world of plastic surgery? And are we the only ones who have a hard time believing those three shows came from the same man?