Fear No Art Chicago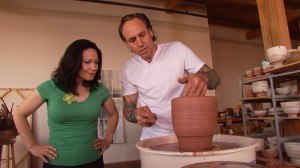 With a broadband-connected TiVo Premiere DVR you not only have access to your favorite TV programs to watch and record, but there is also plenty of web entertainment available to download. Through the TiVoCast service you can discover new professional and amateur web videos, re-watch your favorites and access the most popular videos out there.
If you're not sure where to start or what to watch we have a great suggestion for you, called Fear No Art. Fear No Artis an all access pass behind the scenes to discover what is involved in the making of sculpture, painting, fashion, music, theater, and food from the very own personal studios, kitchens and stages of Chicago's eclectic artists.  Join host Elysabeth Alfano in engaging intimate interviews in this bi-weekly series discovering the artists behind the art. Uncover the exciting culture, history and entertainment of Chicago from the passionate actors, directors, authors, chefs and musicians themselves!
If you'd like to join host Elysabeth Alfano visit the Web Videos area under the Arts category or visit tivo.com.