TiVo's Best Bet Recordings: Holiday Edition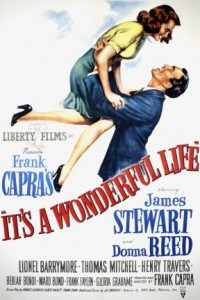 To get you and your TiVo DVR in the Holiday spirit we've come up with a few Holiday themed shows and specials to watch and record this week. There's something for everyone! From the Kung Fu Panda Holiday Special for the kids to Saturday Night Live Presents: A Very Gilly Christmas for the older crowd. Join host Martina McBride and artists like Mary J. Blige and Gavin DeGraw on A Home for the Holidays With Martina McBride. Check out the annual holiday concert of traditional carols, world music and seasonal favorites featuring students from Belmont University's music program on Christmas at Belmont 2011. If that's not enough, kick start your holiday weekend with Dr. Seuss' How the Grinch Stole Christmas.
In order to really get into the holiday spirit make sure to watch and record "It's a Wonderful Life" on Saturday, December 24th at 8 p.m. ET/7 p.m. CT. on NBC. You'll be part of a wonderful cause. In honor of this year's holiday season and "It's a Wonderful Life" being last year's most recorded classic holiday program, TiVo will donate one dollar to Toys for tots for each recording of "It's a Wonderful Life". If you find yourself needing a break from the Holidays check out these non-holiday themed suggestions…
NFL Football: An interesting matchup of postseason hopefuls takes place tonight at Candlestick Park, where the Pittsburgh Steelers visit the San Francisco 49ers. The Steelers, last season's AFC champions, were still in the hunt at this writing for the title in the competitive AFC North. The 49ers, in their first season under head coach Jim Harbaugh, built a big lead in the weak NFC West and are playing for a high seed in the NFC playoffs.
Chopped: Former "Queer Eye" guy Ted Allen returns to host another season of this high-tension cooking competition show, in which four rising chefs are given scant seconds to make crucial decisions on how to use mystery items (rabbit, in one case during this season premiere episode) hidden in baskets as they try to prepare a polished three-course meal. After each course is evaluated by the judging panel, one chef is "chopped" from competition.
American Horror Story: "And so they all lived happily ever after." Yeah, right. Plot details are tightly under wraps for the season finale of FX's latest hit series, but the episode title, "Afterbirth," would not appear to augur well for most of the main (still-living) characters. Then there's the tagline series co-creator Ryan Murphy originally planned for the show: "The House Wins." Jessica Lange, Connie Britton and Dylan McDermott star.
The X Factor: Is Simon Cowell's freshman series going to upstage "American Idol"? Probably not, but ratings — not to mention plenty of on-camera drama — have been strong enough during this first season to establish the show as a strong companion piece to "Idol," especially given the strong lineup of over-30 singers the new series fielded. Tonight, in the season finale, viewers find out who takes home the $5 million recording contract.
Chuck: Comic book icon Stan Lee guest stars in "Chuck Versus the Santa Suit," a new episode wherein Chuck and Sarah (Zachary Levi, Yvonne Strahovski) discover who is trying to destroy Carmichael Industries, while back on the homefront Ellie's (Sarah Lancaster) Christmas plans come undone. Elsewhere, a computer virus threatens to ruin Christmas at Buy More, where the team must fend off a lot of very angry customers.
Daily Picks, most-recorded shows and more can all be found on tivo.com to help make the most of your time. Not at home to set a recording? No sweat. Your broadband connected TiVo box allows you to set recordings while on the go.