Happy Holidays from TiVo!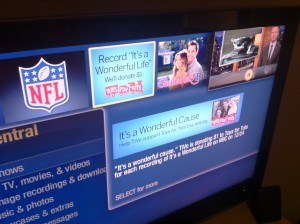 We at TiVo would like to wish you all a happy & safe holiday! Over the next few weeks it will be quiet around here as we too will be celebrating the holidays. We'll be back in the near year and are looking forward to providing new and exciting feature announcements, entertainment suggestions, TiVo tips and tricks and so much more!
It may be quiet around here, but there's still plenty to watch to keep the Holiday spirit alive in our absence. Check out TiVo Holiday favorite's collection on your TiVo Premiere box. From TiVo Central, simply go to Find TV, movies & videos -> Browse TV & Movies -> Collections -> Holiday Favorites. Here is a featured favorite for each category…
Holiday Movies:
Elf – Adopted as a baby by one of Santa's elves, a man leaves the workshop to search for his family in New York.
Home Alone – Accidentally left by his Paris-bound family, an 8-year-old makes mincemeat of two burglars in the house.
A Christmas Story – In the 1940s, little Ralphie tries to convince his parents to get him a Red Ryder range-model BB gun for Christmas. Narrated by Jean Shepherd.
Holiday TV:
Disney Prep & Landing – An elite unit of elves, Prep & Landing, ensures that homes around the world are properly prepared to be visited by Santa Claus each Christmas Eve.
Dr. Seuss' How the Grinch Stole Christmas – Boris Karloff narrates an animated tale about a curmudgeon and merry Whoville.
Grandma Got Run Over by a Reindeer – A youth embarks on a journey to find his missing grandmother and prove that Santa Claus is real.
Holiday Specials:
Disney Parks Christmas Day Parade TV – Disney characters on parade celebrate the holiday; featuring performances by Jennifer Hudson, Justin Bieber and Christina Aguilera; hosted by Nick Cannon, Mario Lopez and Maria Menounos.
The Hollywood Christmas Parade – The holiday parade features marching bands, live performances, character balloons and Hollywood celebrities.
It's a Wonderful Cause:
Don't forget to set your TiVo box to record "It's a Wonderful Life" on Saturday, December 24th at 8 p.m. ET/7 p.m. CT. on NBC  you'll be part of a wonderful cause. In honor of this year's holiday season and "It's a Wonderful Life" being last year's most recorded classic holiday program, TiVo will donate one dollar to Toys for tots for each recording of "It's a Wonderful Life."
Learn how to get video on demand via broadband through the TiVo service. Additional fees may apply for premium content.