There's an app for that!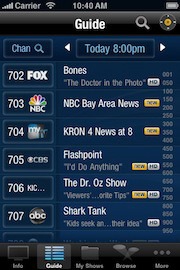 How great would it be to search, browse, explore and share comments about your favorite TV show or movie without interrupting what you're already watching on your TiVo® DVR? What about being able to schedule your programs on the go? Lose the remote? Well there's an app for all of these things! TiVo is proud to announce its TiVo App for iPhone, which is now available.
Features of the App Include:
NEW! Guest Mode – Even if you don't currently have a TiVo DVR, you can still sample the TiVo experience through the new Guest Mode. Users can browse, search and scroll through program and channel guides and experience the simplicity of the TiVo interface.
NEW! TiVo Series3™ Support* – Now users who have TiVo Series3™, HD and HD XL DVRs can also download and use the TiVo App to browse, search and schedule recordings as well as make use of the reinvention of the TiVo remote.
Gesture-based controls – Take complete control of all recordings, even move forward and backward through a show with a simple tap or swipe.
Program Guide – Browse your full-screen TV program guide without interrupting TV viewing.
Schedule – Schedule one-time recordings and Season Pass® recordings from the device at home or on-the-go.
Get more from your shows and movies – Explore cast and crew and other recommendations of your favorite shows without interrupting the big screen.
Search – Search for all of your favorite TV shows, movies, actors or directors across both broadcast and broadband from Netflix, Hulu Plus, Amazon Instant Video, and more.
Share comments with your friends – From within the TiVo App, comment and share your thoughts on your favorite programming on Facebook or Twitter.
Take a look at the app now. The TiVo App for iPhone will be available for free from the Apple App Store or at www.itunes.com/appstore.  The TiVo App for iPhone supports all high definition TiVo DVRs, including TiVo Premiere, Premiere XL, Series3TM, HD and HD XL.*  A valid TiVo user account is required for full functionality.
For more information, please visit www.tivo.com/iphone.
* TiVo Series3™, HD and HD XL DVR users will enjoy the app's guide, scheduling, remote control, search and explore features, but these users should anticipate a smaller set of features and capabilities than TiVo Premiere users.