TiVo's Best Bet Recordings: May 2, 2011
Good news. There's plenty of new programs ready to record on your TiVo® DVR this week! From the makeovers on The Biggest Loser to Mother's Day themed episodes of Modern Family and The Middle, there's enough lined up to please the entire household. Here are some other "out of the box" suggestions for this week in TV:
Taboo: The season premiere, "Beauty," examines the extremes to which some people will go to get their desired look. Among those profiled are a model with anorexia who dieted herself down to 55 pounds, a woman who is obsessed with having larger and larger breasts, and a woman who believes that when it comes to beauty, it's no pain, no gain — and she's not talking about working out at the gym.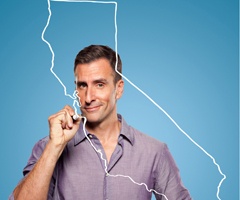 How the States Got Their Shapes: You don't have to be a geography geek to enjoy this new History Channel series, spun off from a well-received special. Brian Unger, a former correspondent for "The Daily Show," serves up fascinating facts about how our state lines were drawn, with each episode focusing on one theme. The premiere, "A River Runs Through It," is about the role of water in shaping the states.
Pawn Queens: It's not the first reality series set in a pawnshop, but this new entry gives the subgenre a women's touch. Minda and Nikki, proprietors of Naperville Jewelry & Loan in suburban Chicago, are striving to keep their shop female- and family-friendly. Like their counterparts on the other pawnshop shows, they take in items from the routine to the rare to the ridiculous.
Thoroughbred: Academy Award-winning filmmaker Paul Wagner directs this documentary that follows a diverse group of individuals and horses for a year leading up to the 2009 Kentucky Derby. It visits Aqueduct Racetrack in New York, a horse farm in Kentucky and the Arabian desert, where the breed originated, before returning to the Bluegrass State for the big race.
Daily picks, most-recorded shows and more can all be found on tivo.com to help make the most of your TV time. Not at home to set a recording? No sweat. Your broadband-connected TiVo box allows you to set recordings while on the go. Learn more.