TiVo® Premiere: Santa's Little Helper
Radio stations are playing nonstop holiday music, there are no parking spots available at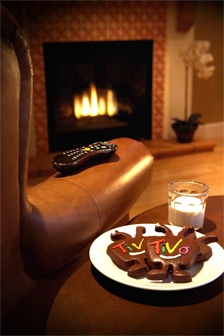 the mall, and every corner you turn you hear bells jingling – the holiday season is officially upon us!
While there's no doubt this time of year is one of the top favorite seasons, it can also be a stressful one.
Cooking a feast for the entire family, entertaining out-of-towners, battling crowded stores, finding the perfect gift, putting up festive decorations… the list goes on.
But rest assured – this year, Santa has delivered a little helper straight to your living room to deal with the nuances that come with holiday entertaining. Here are ten ways that the TiVo Premiere box can make your holidays easier and help you keep your sanity:
Arm yourself with holiday cooking shows from the "Holiday How-To" Collection to make a meal your mother-in-law can't complain about
Record the game so your husband has no excuse for not helping out in the kitchen
Mask your house clutter with festive decorations by searching YouTube for "holiday decorating" tips and tricks
Stream a holiday playlist on Pandora to fill in awkward silences during dinner – Try the Rockin' Holidays station
Keep the kids from sneaking peeks at the presents by distracting them with classic movies like "Miracle on 34th Street" or "It's A Wonderful Life" rented or streamed via broadband from Amazon On Demand, Netflix. Check out others on the "Holiday Favorites" Collection
Provide instant small-talk topics by streaming a slideshow of last year's entertaining holiday photos on your big screen from Picasa, Photobucket, or directly from your PC
Browse the "Holiday TV" Collection for old reruns of Christmas episodes from shows like "Seinfeld" and "Married With Children" to remind yourself that other families have disastrous holidays too
Pack your favorite episodes for that long trip to Grandma's using TiVoToGo software. Transfer recorded shows to a laptop, media device or smart phone and keep your kids (and yourself) sane during holiday travel
Just realized you forgot to schedule your favorite show while waiting in the mile-long line to see Santa? Use your phone to visit m.tivo.com and take care of that scheduling on the spot—one more thing you just crossed off your to-do list
Avoid awkward gift-giving encounters by giving the one gift you know your family will love: TiVo Premiere.
By bringing you TV, movies, Web and music, TiVo Premiere is the one box for all your entertainment and entertaining needs. Don't the holidays seem much more manageable now?
Don't fret – you still have time to enter the Happy TiVodays iPad sweepstakes in celebration of the new holiday pricing and the new TiVo app for the iPad. You can enter for a chance to win one of nine prize packages consisting of a TiVo Premiere box and an iPad.  See the "Offer" tab on the TiVo Facebook page for details. The sweepstakes runs through December 10, 2010.*
*NO PURCHASE OR PAYMENT NECESSARY TO ENTER OR WIN. Sweepstakes starts November 22, 2010 and ends December 10, 2010.  Open only to current legal residents of the 50 states of the United States and D.C. who are the age of majority in their respective jurisdiction at the time of entry and enter as a fan of the TiVo page on Facebook (www.facebook.com/tivo) at the time of entry.  Void where prohibited. See Official Rules on the "Offer" tab on Facebook.com/TiVo for details.  Sponsored solely by TiVo Inc.  2160 Gold Street, Alviso, CA 95002 ("Sponsor").  This sweepstakes is not sponsored or endorsed by Apple Inc.