Thumbthing Thumbtastic is Here: The TiVo® Slide Remote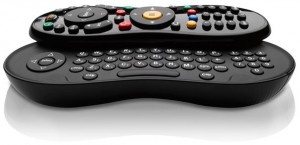 It is here, the all-in-one remote control for the all-in-one entertainment box. The TiVo® Slide Remote fully equipped with a slide-out, QWERTY keyboard makes it easier to find your favorite series or celebrity on TV, YouTube, Netflix, Rhapsody and more.
This is the first ever DVR remote with a full QWERTY keyboard, and we're certain that you'll be excited to get your thumbs on it. The design has the same fun look of the classic TiVo remote, but makes it even easier to get more from your TV experience.
Its Bluetooth technology increases the remote's reliability, and range up to 30 feet away.  It's fully backlit, and includes power and volume controls for the TV.  Installation is as easy as plug n' play.  Just plug the USB receiver into the port on the TiVo box, and you're set.
And you can enter for a chance to win one today! To celebrate its availability, we are giving away one TiVo Slide Remote control each day for 30 days. To enter the 30 Slides in 30 Days Sweepstakes, you must first become a fan of TiVo on Facebook or follow TiVo on Twitter. Fans and followers can then enter the giveaway for one of the thumbtastic prizes at www.tivo.com/30slides. We additionally encourage you share the name of a favorite TV show, movie or web video – which they will be able to search for oh so much faster with the TiVo Slide.
TiVo Slide is available today at tivo.com for $89.99 and coming this weekend at Best Buy stores nationwide. The new remote will work with TiVo Premiere, Premiere XL, TiVo Series3, TiVo HD, and TiVo HD XL boxes.
Want to see more? This video gives you a closer look at the new TiVo Slide Remote.