TiVo® Premiere Debuts to RCN Customers in the Washington, D.C. Area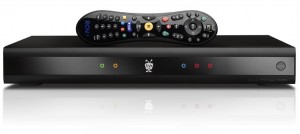 RCN customers in the Washington, D.C. area will now receive the TiVo® Premiere box when requesting a DVR. Through this offering, customers can access RCN's Video ON DEMAND library as well as other TiVo content partners like YouTube videos and Blockbuster On Demand.
Some features offered include:
• Integrated search: Scan across all programming—TV, Video ON DEMAND, and online content—to easily find exactly what you want to watch.
• Automatic recordings: With TiVo's Season Pass® recordings, your favorite shows record automatically; plus TiVo Wish List® searches find programs based on your interests and records them whenever they're on.
• Remote scheduling: Schedule recordings remotely from anywhere you have an Internet connection.
• TiVoToGo™ transfers: Take shows with you by transferring them from your TiVo box to a laptop or mobile device.
• Multi-room viewing: Record a show on one TiVo box and watch it on another within the home.
• Control live TV: Pause, rewind, slow-mo, and instantly replay live TV.
• Content storage: Record up to 45 hours of high-definition (HD) programming or up to 400 hours of standard-definition.
• Full HD support: 1080p and 1080i HD formats are fully supported.
Planned future applications include Pandora Internet Radio, FrameChannel, and possible other third-party provided applications.
RCN is the first cable provider to offer TiVo hardware and software as its primary DVR product. RCN will first launch the TiVo Premiere box in Washington, D.C., but will also introduce Premiere in its New York City, Boston, Chicago, Philadelphia, and Lehigh Valley markets in the near future.
Pricing, availability, and more information is available by calling 1-800-RING-RCN (746-4726) and on www.rcn.com/tivodc.
This blog post contains forward-looking statements within the meaning of the Private Securities Litigation Reform Act of 1995. These statements relate to, among other things, future applications from Pandora Internet Radio, FrameChannel, and other possible third party applications. Forward-looking statements generally can be identified by the use of forward-looking terminology such as, "believe," "expect," "may," "will," "intend," "estimate," "continue," or similar expressions or the negative of those terms or expressions. Such statements involve risks and uncertainties, which could cause actual results to vary materially from those expressed in or indicated by the forward-looking statements. Factors that may cause actual results to differ materially include delays in development, competitive service offerings and lack of market acceptance, as well as the other potential factors described under "Risk Factors" in the Company's public reports filed with the Securities and Exchange Commission, including the Company's Annual Report on Form 10-K for the fiscal year ended January 31, 2010 and Current Reports on Form 8-K. The Company cautions you not to place undue reliance on forward-looking statements, which reflect an analysis only and speak only as of the date hereof. TiVo disclaims any obligation to update these forward-looking statements.