TiVo® Wireless N Adapter Now Available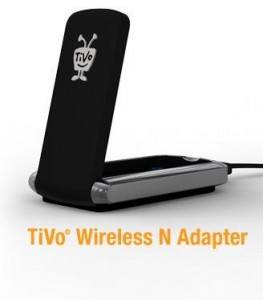 In March, TiVo announced the Wireless N Adapter, designed to make downloads and transfers faster and easier. The Wireless N Adapter is now available for purchase on tivo.com or later this week from Best Buy.
If you want faster broadband downloads or enjoy the flexibility of sharing content between two or more TiVo DVRs at home, this adapter is for you. When used with your N-speed router or an N-speed bridge, the adapter connects your TiVo box to your wireless home network giving you faster downloads from sources like Amazon Video On Demand, speedier transfers between TiVo boxes within the home, as well as extended range.
TiVo has offered the wireless G adapter for a few years, but this new Wireless N Adapter takes your TiVo DVR broadband experience up a notch by focusing on speed and performance.
If you don't own an N-speed router, you will need to plug a second TiVo Wireless N Adapter into your G- or B- speed router to get N-speed downloads. The adapter works with all dual tuner TiVo DVRs and is backwards compatible with older networks.