Redesigning tivo.com for TiVo® Premiere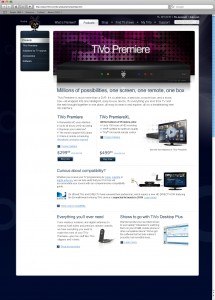 Designing a web site is a process of constant evolution. Content, layouts, functionality, and data change every day based on business needs, new ideas, and user input. It's one of the reasons I've loved working on the web for the past 16 years; if a site isn't working the way you intended, you can make changes quickly, test again, and continue to refine the experience.
Every so often, though, circumstances call for more wholesale changes. As we prepared to launch the new TiVo Premiere box, we realized that tivo.com needed something closer to a full site redesign. Such an effort is not to be taken lightly. It requires the focused efforts of business owners, project managers, visual designers, information architects, writers, external vendors, developers, researchers, and testers. In addition, redesigning a web site means changing familiar paths for the site's current users. No matter how well thought-out your design is, change is disruptive for users as they adapt to the new design.
But for the TiVo Premiere box, we really wanted to communicate that this launch represented not just a new product but a new era in TiVo's history. Our famously simple and intuitive user interface received its first-ever major update with TiVo Premiere's graphically engaging high-definition interface. Premiere's slick hardware was built on a multi-core architecture, and its software is based on Adobe Flash, enabling the future development of third-party applications that can take the TiVo experience much further.
We started by creating a new visual design system for tivo.com that connected to TiVo's updated branding – reflected in our packaging, brochures, and other collateral – while also helping to bring Premiere's new HD interface to life. After several iterations, we tested designs with TiVo customers and prospects in our on-site usability lab to understand if the interface was clear and easy to read, if it supported our updated brand attributes, and if it really did communicate something different for the company while retaining elements that are uniquely "TiVo."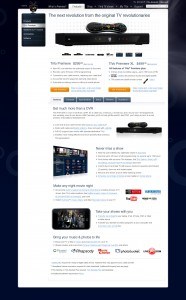 Satisfied that we were on the right track, we moved on to information architecture and content. The challenge here was to share the excitement the TiVo Premiere box generates while also clearly communicating important information to potential customers doing their research, such as the fact that Premiere connects to your cable service and replaces your cable box ; the incredible wealth of content that is brought elegantly into Premiere's HD interface; what the setup process is like; and, for customers looking to upgrade, how Premiere differs from earlier TiVo box models. We worked to keep the site simple and the content brief in these pages, while leading users to more detailed information if they need it.
We tested the final site again with prospects and customers and have made many additional refinements based on their input. We're gathering feedback from our site surveys and have additional on-site and remote usability testing planned for the coming weeks. We'll keep listening and evolving; it's part of our culture here at TiVo. And we'd love to hear from you on how tivo.com can keep improving to live up to TiVo's high standards for a world-class customer experience.
Matt Burns is Director of Web & Mobile Experience for TiVo Inc.