TiVo adds HBO GO and Toon Goggles – the perfect DVR for all ages!
Nowadays, a three-year-old child is just as TV-savvy as his/her parents, with the child wanting access to favorite TV content in an instant. No matter what your age, you want to customize your TV content experience. So whether you're looking for a show to keep your kids entertained or looking for a TV series that will put some spice into a night in with your significant other, TiVo® has you covered! Starting today, TiVo is adding both HBO GO®, HBO's premium authenticated streaming service, and Toon Goggles®, the premier on-demand entertainment destination for children, to its TiVo BOLT™, TiVo Roamio®, and TiVo Premiere series of DVRs.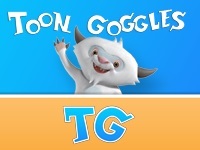 Here's a bit more information about both apps:
HBO GO – get unlimited access to your favorite HBO® shows, including HBO original programming, hit movies, sports, documentaries, comedy specials and more.1 Plus, get bonus features and special behind-the-scenes extras. Subscribers can enjoy every season of the best of HBO. Furthermore, HBO GO content is integrated into TiVo Search and TiVo's OnePass™ selections, thereby giving TiVo users a way to access an even more comprehensive catalog faster than ever before. HBO GO is now available to HBO linear subscribers through participating distributors.
Toon Goggles – a family-friendly, kid-safe, entertainment on-demand service, aggregating hundreds of cartoons from around the world licensed for online streaming.2 Also included with the service are games and interactive books (coming soon) designed to entertain and educate children of all ages.
The above applications can be accessed directly through TiVo Central on your TiVo box. Each application requires an existing user subscription. For more information about how these applications will be integrated, visit www.tivo.com.
1 High-speed internet connection and separate monthly subscription fee required; availability of third party content is subject to change.
2 Broadband internet connection required. Separate monthly subscription fee required to upgrade to premium service.
© 2016 TiVo Inc. All Rights Reserved. TiVo, the TiVo logo, the TiVo silhouette logo, TiVo BOLT, TiVo Roamio, and OnePass are trademarks or registered trademarks of TiVo Inc. or its subsidiaries worldwide. HBO GO and the HBO GO logo are registered trademarks of Home Box Office, Inc. HBO is a registered trademark of Time Warner Inc. Toon Goggles and the Toon Goggles logo are registered trademarks of ToonGoggles, Inc.